Print
Visual studies graduate student drawn by focus on decolonization
By Lisa Renner for UCSC News
Jazmin Benton is a  fellow in The Humanities Institute's Graduate Student Success Program. The two-year program for first and second-year PhD students is part of THI's Expanding Humanities Impact and Publics project to support doctoral student success.
---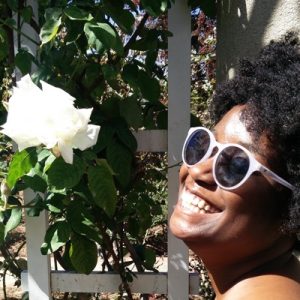 When Jazmin Benton visits a new city, she always likes to check out its museums and libraries. "You understand the feeling of a place," she said.
Benton's love of museums led her to earn degrees in museum studies and art history at the University of Maryland Baltimore County and pursue a doctoral degree in visual studies at UC Santa Cruz. She was awarded a Eugene Cota-Robles Fellowship, which is given to students who have overcome significant social or educational obstacles to achieve a college education, and whose backgrounds equip them to contribute to intellectual diversity among the graduate student population.
The Maryland native hopes to eventually become a professor and do some curatorial work.
Benton is one of only two African-American students who have been in the program since it was founded nine years ago. Benton said one of the reasons she chose UC Santa Cruz was because the program is explicitly about decolonization and speaking about race, gender and sexuality. According to the program website, students "explore diverse cultural perspectives across time and space."
[Benton] chose UC Santa Cruz was because the program is explicitly about decolonization and speaking about race, gender and sexuality.
Addressing the implications of race is not just an elective, it's the core of the program, she said. "It made me feel this would be a safer space than other programs," she said.
Benton interned for a time at Walters Art Museum in Baltimore and enjoyed helping out at different parts of the museum. "That was cool to see all the different ways that the museum works," she said.
She also studied architecture briefly in college but said she loved the architectural theory and history classes much more than the design classes. For fun, she enjoys making clothes, crocheting and knitting.
Getting to graduate school was a challenge because she was unfamiliar with the process and what was expected in applications. She is very thankful that her undergraduate adviser Preminda Jacob showed her the way.
"I look forward to one day being able to help someone the way my undergrad adviser helped me," she said.
---
This profile by Lisa Renner was originally published in UCSC News.
Feature image: "Squiggle at Sunset" by Angelina Hool, Student, College Nine—winner of the 2019 chancellor's holiday photo contest.