Print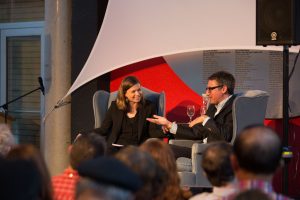 By Scott Rappaport
A capacity crowd filled the atrium floor and lined the balcony stairs of the Museum of Art and History in downtown Santa Cruz for the latest public event presented by UCSC's Institute for Humanities Research (IHR).
The occasion was Radical Jewish Politics: From Marx to Bernie, the second installment of the IHR's new "UCSC Night at the Museum" series for the local community.
It offered a discussion of the history of radical Jewish politics–inspired by both the centennial of the Russian Revolution in 2017 and the stunning electoral success of Bernie Sanders, which has led to a renewed interest in socialism in the United States.
The evening featured a public conversation with UC Santa Cruz alumnus Tony Michels–professor of American Jewish History at the University of Wisconsin-Madison, author of A Fire in Their Hearts: Yiddish Socialists in New York, and editor of Jewish Radicals: A Documentary History.
His talk was followed by a Q & A, moderated by UCSC assistant professor of history and Jewish studies, Alma Heckman.
"This is the 100th anniversary of the Russian Revolution," Michels noted at the beginning of his presentation. "Vladimir Putin is not marking it, but that shouldn't stop us in Santa Cruz from talking about it."