Events

September 2011
Until 1917, most Jews of the Russian Empire were restricted to a region called the Pale of Settlement, where they created their own distinctive folk culture. In 1914 the writer, socialist revolutionary, and ethnographer, Sh. An-sky, produced a massive Yiddish ethnographic questionnaire to
Find out more »
October 2015
As part of UCSC's 50th Anniversary celebration
An Uncommon Place: Shaping the UC Santa Cruz Campus
Exhibition Dates: Friday, September 18, 2015 - Sunday, October 25, 2015

Public reception at the Smith Gallery at Cowell College:
Friday, September 18, 5:00pm-7:00pm
Curated by Emeriti Professors James Clifford, Michael Cowan, Virginia Jansen, and Emeritus Campus Architect Frank Zwart.
All events are FREE
The exhibition, originally presented last spring at the Mary Porter Sesnon Art Gallery at Porter College, traces the decisive moments in the early creation of UC Santa Cruz's built environment.
Everyone agrees that the UC Santa Cruz campus is breathtaking. How was it created? An Uncommon Place traces decisive moments in the site's early development. Here an innovative educational project engaged with a beautiful and challenging environment. The university took shape among steep ravines and dramatic trees in a way that respected as it transformed the landscape. Using architectural plans, photographs, and oral histories, the exhibition illustrates paths taken and not taken-decisions, constraints, and hopes. It celebrates the achievement of UCSC's founding planners while analyzing the tensions and contradictions that were built into their project. Through its many subsequent transformations, the UC Santa Cruz campus remains an extraordinary work of environmental art.
Remembering these formative years can perhaps help us renew a powerful utopian experiment. At UC Santa Cruz, architecture and environment still conspire to create an uncommon place, a setting for teaching, research and imagination outside the bounds of the ordinary.
Sponsored by UCSC Alumni Association; Divisions of the Arts, Humanities, Physical and Biological Sciences, Social Sciences; Colleges: Cowell, Eight, Kresge, Oakes, Porter, and Stevenson; McHenry Library Special Collections & Archives; and University Relations.
---
Eloise Pickard Smith Gallery Hours:
Tuesday - Sunday, 11:00am to 4:00pm (Exhibition Dates: September 18 - October 25)
The gallery is wheelchair accessible and admission is free. Group tours are available by appointment (831) 459-3606. Please visit our website http://art.ucsc.edu/galleries/uncommon-place
Find out more »
November 2017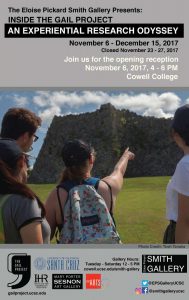 On November 6 from 4-6 pm, the Eloise Pickard Smith Gallery in Cowell College will be hosting an opening reception for "Inside the Gail Project: An Experiential Research Odyssey," a companion show to the current exhibition at the Sesnon Gallery. This exhibition highlights student research and the active learning that takes place in the Gail Project.
Find out more »
+ Export Events