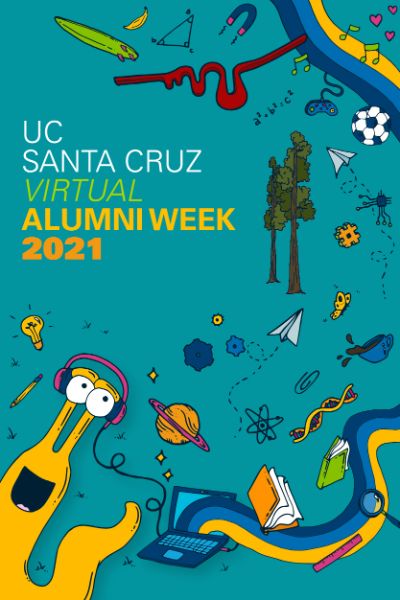 You've given up restaurants and family dinners. You've eschewed vacations and parties and maskless conversations.
What you don't have to give up, however, is UC Santa Cruz's 2021 Alumni Week celebration set for April 19–25. With some 60 virtual events planned—from a thought-provoking conversation about the afterlife of slavery with writer and scholar Saidaya Hartman, to a discussion with biomolecular engineer Ed Green about solving crime by using cutting-edge DNA techniques he's developed, to classes on Kombucha-making—the week is full of smart, interesting, and some just-plain-fun events. Best of all, registration can be made on the same day and, even if you're living in another country, you'll be able to attend. All events are Pacific Time.
The week kicks into high gear when literary critic and UC Santa Cruz Professor of Literature Vilashini Cooppan and UC Santa Cruz Associate History Professor Greg O'Malley join in conversation with Hartman, whose books and essays have explored the legacy of slavery as it still haunts America today. One of the few people who can claim a MacArthur Genius Fellowship and also an appearance in a Jay-Z video, Hartman has penned books that are provocative, eye-opening, and thoughtful—exactly how this conversation, sponsored by The Humanities Institute, will be. Saidiya Hartman: The Afterlife of Slavery is set for Monday, April 19, at 4 p.m.
If true crime, or even fictional crime, is your thing, you'll want to tune in to a conversation with UC Santa Cruz Professor Ed Green for the Kraw Lecture: The past, present, and future of DNA-based forensics on Thursday, April 22, at 5:30 p.m. Green's work with ancient DNA led him to develop a technique that has made it possible to recover and sequence DNA from crime-scene evidence like old hair and degraded semen samples—something not thought possible by forensic investigators before now. He has worked with law enforcement and the FBI on dozens of cold cases, helping not only in identifying suspects but also giving a name to long-ago victims. His work has been called a "game changer" by detectives.
And, who can ignore politics in these charged times? Terri McCullough (Oakes '90, politics),  chief of staff to House Speaker Nancy Pelosi and the first woman in modern times to serve in the role in a paid, full-time capacity, will give viewers an inside look into her world on Saturday, April 24, at 5:30 p.m. McCullough's talk is being held in memory of UC Santa Cruz alum Gabe Zimmerman, who was among four people killed when a gunman opened fire on former U.S. Rep. Gabby Giffords in 2011. Former Santa Cruz Mayor Cynthia Chase (Merrill '01, psychology) also will join the political discourse with a discussion of strategies for electing more underrepresented people to public office in her Monday, April 19, talk, "Breaking the Glass Ballot." The discussion is at 1 p.m.
If you're just ready to have fun, there are also plenty of options. On Saturday, April 24, at 10 a.m., UC Santa Cruz Reserve Director Patrick Robinson will give a virtual tour of the elephant seal colony at Año Nuevo in Elephant Seals at UCSC's Año Nuevo Reserve, where you'll be able to get up-close and almost-personal with these fabulous deep-diving, long-haul swimmers, which have been the subject of UC Santa Cruz research for more than two decades.
Friday, April 23, at 5:30 p.m., you can turn that worn-out COVID-lockdown couch into a theater seat when retiring UC Santa Cruz Professor Danny Scheie brings back the spirit of the Festival Glen with a live, costumed reading of his 1988 signature show, Shakespeare's The Comedy of Errors. The presentation will raise money for the new Danny Scheie Scholarship Fund. Donations are requested.
Also on tap are some 20 presentations by UC Santa Cruz alumni. Dubbed "Banana Slug Share Sessions," these 30- to 90-minute presentations are like mini life-lifts for those who've endured too many Zoom meetings, take-out pizzas, and doom-scrolling sessions.
For instance, Savarna Wiley MA CCHT (Porter '83), who has worked as a hospice chaplain and end-of-life educator, will discuss the way in which deep relaxation and reflection can bring a greater awareness of the self in a presentation titled, "Living a Soul-Centered Life," on Thursday, April 22, at 7 p.m., while music alum and cellist Roger Lebow (Porter '71) will help you move into the evening with a half-hour of solo cello, playing Bach and related surprises in Evening cello: Bach and Beyond on Saturday, April 24, at 7 p.m.
On Wednesday, April 21, at 7 p.m., author, explorer, and National Geographic photographer Gordon Wiltsie will talk about the many kinds of survival and the spirit of life, topics he's pondered on his scores of assignments to some of the wildest places on earth. His talk is titled "The Art of Survival in Mind, Body & Spirit."
And if you've eaten your fill of homemade sourdough bread, then tune in Sunday, April 25, at 10 a.m. and watch Michael Riepe (Oakes '91, computer engineering), past president of the UC Santa Cruz Alumni Association, show you how to make your own tasty kombucha. Check out "How to Make Your Own Kombucha (Or, Honey, what's that gross thing in the back of the closet?)."
With plenty more offerings on tap, the 2021 Alumni Week is poised to celebrate not only our talented alumni and campus thinkers but also the spirit of UC Santa Cruz, which is to thrive and grow and change no matter how hard the times.
Visit the Alumni Week calendar for more events and information.
---
Original Link: https://news.ucsc.edu/2021/04/alumni-week-2021-overview.html?utm_source=04-13-2021&utm_medium=email&utm_campaign=tuesday-newsday