Welcome to The Deep Read, an annual program of The Humanities Institute at UC Santa Cruz. We invite curious minds to think deeply about books and the most pressing issues of our day.
This year we read Yaa Gyasi's novel Transcendent Kingdom and explored the conditions of cultural assimilation for immigrants to the United States, religious faith vs. scientific inquiry, and the experience of first-generation students in higher education.
Read the Good Times cover story!

Catch up on our weekly explorations:
Week 1: Let's Dig In / Week 2: Dilemmas of Identity
Week 3: Memory & Form / Week 4: Integrating Faith & Science

---
A Conversation with Yaa Gyasi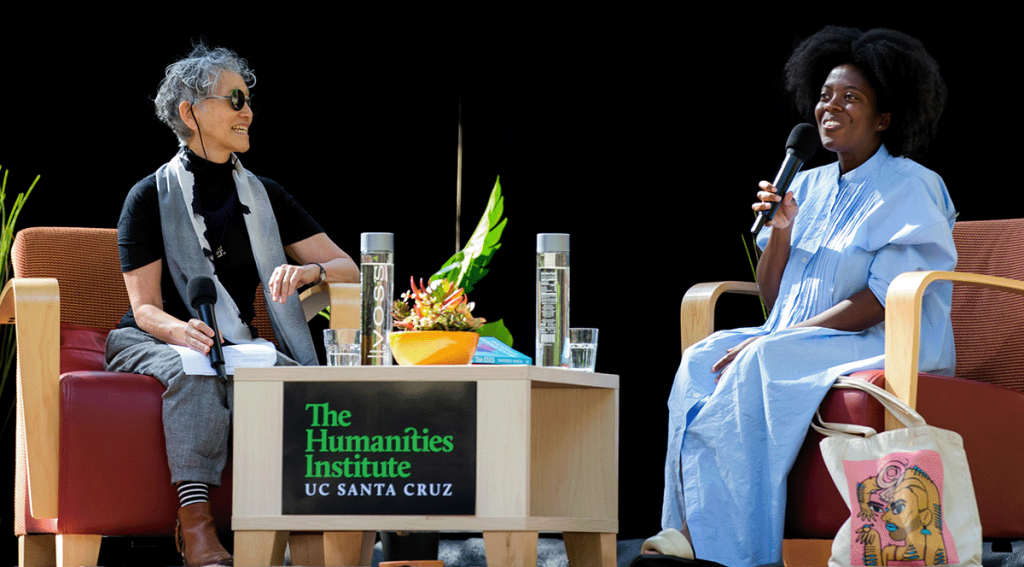 On May 15, 2002 novelist Yaa Gyasi and UC Santa Cruz Professor Emerita of Literature Karen Tei Yamashita spoke at the Quarry Amphitheater, as we closed the book on the 2022 Deep Read exploration of Transcendent Kingdom.
Digging in to Transcendent Kingdom
This program is all about reading deeply with the help from scholars at UC Santa Cruz. Over 4 weeks starting in mid-April, we read Yaa Gyasi's novel together.
Here's what we did:
Email Explorations
There will be weekly emails that dive into a different aspect of the book, guided by UC Santa Cruz professors in the Humanities and Physical Sciences.
Faculty Salon
On May 4 we hosted the 2022 Deep Read Salon where we discussed Yaa Gyasi's Transcendent Kingdom with UCSC Chancellor Cynthia Larive, Vilashini Cooppan (Literature and Critical Race and Ethnic Studies) and Gina Athena Ulysse (Feminist Studies). Watch the video

Community Conversations
We'll had online forums for each of the weekly explorations of the novel where Deep readers can poses questions, posted comments, and engaged with fellow Deep Readers.
In Spring Quarter 2022, Porter College hosted a course (PRTR 151A) for UCSC students titled "Yaa Gyasi and Contemporary African Diasporic Literature."  Students engaged with Gyasi as a Ghanaian American writer whose work is as interested in taking up established African American literary themes, such as trauma and the historical legacies of Atlantic slavery, as it is engaged with issues central to African Diasporic Literature, such as urban mobility and the difficulty African immigrants face navigating middle-class aspirations. Many insights from the class were shared with the broader Deep Read community throughout the program.
👇 Sign up below to get the Deep Read emails and info on future Deep Read events.
Join the Deep Read

A Humanities Institute Initiative
For over 20 years, The Humanities Institute has fostered a vibrant community at the center of UC Santa Cruz and at the cutting edge of Humanities research, education, and public engagement. This work is essential in the face of ever-changing and tumultuous times. And the Deep Read is our newest platform for intellectual engagement, classes on campus, and major events with top writers and thinkers. We aim to foster thinking deeply across all mediums, driven by conversation and timely engagement with art, culture, politics and scholars here at UC Santa Cruz who see the forest and the trees every day.
Deep Read Partners
CAMPUS PARTNERS
The Humanities Institute
College Scholars Program
Cowell College
Division of Student Affairs and Success
Living Writers Series
Porter College
UCSC Council of Provosts
University Library
University Relations
COMMUNITY PARTNERS
Bookshop Santa Cruz
Pacific Collegiate School
Santa Cruz High School
Past Deep Read Programs