Welcome to The Deep Read, an annual program of The Humanities Institute at UC Santa Cruz. We invite curious minds to think deeply about books and the most pressing issues of our contemporary moment.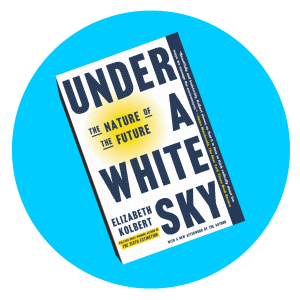 This year we are reading Elizabeth Kolbert's Under a White Sky, which explores the role that human ingenuity has played in creating climate change and the role it plays now in creating a sustainable future. This nonfiction book "expertly mixes travelogue, science reporting, and explanatory journalism, all with the authority of a writer confident enough to acknowledge ambiguity," says Carlos Lozada in the Washington Post. Together, we'll consider the stark changes taking place in the world and explore the efforts to adapt and survive in this era of climate change. We'll look at how a humanistic approach to the subject can help us navigate this difficult reality and live ethically in a period of ongoing climate crisis.
Look for information on picking up your book starting in January 2023. The program will kick off in Spring 2023 and culminate with an event featuring Kolbert on campus Sunday, May 21st. Sign up below for updates.
👇 Sign up below to get the Deep Read updates and info on future Deep Read events.
Join the Deep Read

A Humanities Institute Initiative
For over 20 years, The Humanities Institute has fostered a vibrant community at the center of UC Santa Cruz and at the cutting edge of Humanities research, education, and public engagement. This work is essential in the face of ever-changing and tumultuous times. And the Deep Read is our newest platform for intellectual engagement, classes on campus, and major events with top writers and thinkers. We aim to foster thinking deeply across all mediums, driven by conversation and timely engagement with art, culture, politics and scholars here at UC Santa Cruz who see the forest and the trees every day.
Deep Read Partners
CAMPUS PARTNERS
The Humanities Institute
College Scholars Program
Division of Student Affairs and Success
Council of Provosts
Living Writers Series
Porter College
University Library
University Relations
COMMUNITY PARTNERS
Bookshop Santa Cruz
Pacific Collegiate School
Santa Cruz High School
Past Deep Read Programs