Print
Welcome to The Deep Read, a program brought to you by The Humanities Institute at UC Santa Cruz that invites curious minds to think deeply about literature, art, and the most pressing issues of our day. We read books from a wide range of genres, exploring their implications on our politics, inner lives, and communities.

👇 Sign up below to get the Deep Read emails and info on the the next Deep Read program.
Join the Deep Read

There There, by Tommy Orange
The 2021 Deep Read Program explored Tommy Orange's novel There There. The novel depicts a variety of urban Native American characters living in Oakland, CA. We think this novel meets the need to think deeply about Native American life in our contemporary moment, helping us rethink Native experience and representation. It was also hailed by last year's Deep Read author, Margaret Atwood, as "an astonishing literary debut."

Digging in to There There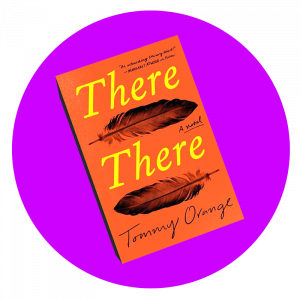 This program is all about reading deeply with help from scholars at UC Santa Cruz. Over 4 weeks in February, we'll read Tommy Orange's novel together.
Here's what you can expect:
Email explorations
There were 4 weekly emails that dove into different aspects of the book, guided by UC Santa Cruz professors in the Humanities and Social Sciences. Catch up here:
Week 1: Let's Find the There There
Week 2: Against Assimilation
Week 3: Real Stories
Week 4: Native Hubs
Salons
You'll be able to join the conversation in a series of online salons, where our participating professors will discuss the book with UCSC students and the broader Deep Read community.
Community conversations
We'll have online forums open for discussion of the weekly explorations of the novel.
Meet Tommy Orange
This year's program will culminate with a live, online discussion with There There author Tommy Orange on March 3, 2021. Register here.
Deep Read scholars
We've enlisted a great group of UC Santa Cruz professors who will help us dig deeply into the novel:
Mayanthi Fernando, Anthropology
Katie Keliiaa, Feminist Studies & Indigenous Studies
Micah Perks, Literature
Renya Ramirez, Anthropology
Jennifer Tseng, Literature
Salon Schedule
Thursday, February 18, 5:20 PM PST
Creative Writing professors Micah Perks and Jennifer Tseng will lead a conversation about the techniques at play in the novel. RSVP to receive the Zoom link
Wednesday, February 24, 5:30 PM PST
Professors Mayanthi Fernando, Katie Keliiaa, and Renya Ramirez will participate in a salon-style conversation about the novel. RSVP to receive the Zoom link
Thursday, February 25, 5:30 PM PST
Discuss the novel with members of the Amah Mutsun Tribal Band, the Indigenous tribe native to the Santa Cruz region. RSVP to receive the Zoom link
The Class
In Winter Quarter 2021 Porter College will offer a course in conjunction with the College Scholars Program featuring Tommy Orange's novel, "Tommy Orange, There There, and the New Native Renaissance." In the course, students will explore how the power of collective storytelling and community activism is depicted in the struggle against the marginalization of Native life, the exploitation of Native lands, the continued erasure of Native experience from the historical record, and the legacies of genocide and occupation. Many insights from the class will be shared with the broader Deep Read community.
A Humanities Institute Initiative
For over 20 years, The Humanities Institute has fostered a vibrant community at the center of UC Santa Cruz and at the cutting edge of Humanities research, education, and public engagement. This work is essential in the face of ever-changing and tumultuous times. And the Deep Read is our newest platform for intellectual engagement, classes on campus, and major events with top writers and thinkers. We aim to foster thinking deeply across all mediums, driven by conversation and timely engagement with art, culture, politics and scholars here at UC Santa Cruz who see the forest and the trees every day.
Deep Read Partners
CAMPUS PARTNERS
The Humanities Institute
American Indian Resource Center
College Scholars Program
Division of Student Success
Porter College
UCSC Council of Provosts
University Library
University Relations
COMMUNITY PARTNERS
Amah Mutsun Tribal Band
Bookshop Santa Cruz
Past Deep Read Programs