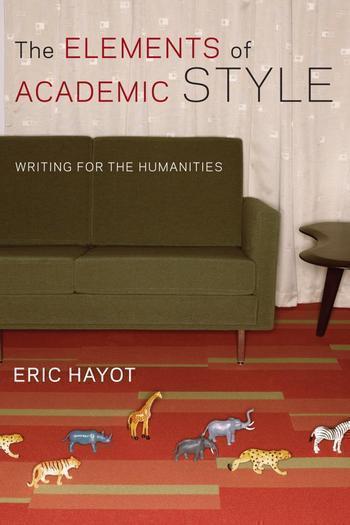 We are looking for interested advanced graduate students to participate in a reading group for Winter and Spring 2016. Students will be working together during Winter and Spring to read Professor Eric Hayot's book, Elements of Academic Style: Writing for the Humanities (2014) and share their work over the course of 5 meetings. Since it will be a small, discussion based reading group, availability is limited.
The reading group's meetings will culminate in a hands-on writing and publishing talk with Professor Hayot, who will be visiting UCSC on April 8, 2016. There will be a workshop given by Professor Hayot on writing and publishing in the humanities as part of the PhD+ Series hosted by the Institute of Humanities Research (IHR) that will be open to all graduate students, based on availability; the reading group will meet with Professor Hayot separately as a small group.
Graduate Students are eligible to apply for a space in the reading group only if they meet the following criteria:
• Have Advanced to Candidacy (ATC) and passed their Qualifying Exams.
• Have a draft of a dissertation chapter and are planning to submit a revised manuscript of this chapter for publication in 2016
• Submit a short statement of interest (300 words/1500 characters) that explains status of current manuscript, how the reading group will support your progress, and include your department, year, and standing in the program.
• Be committed to sharing their work and attend all meetings.
Please direct any questions to ktrostel@ucsc.edu. All applications are due Sunday, November 22, 2015.
Sponsored by: IHR, the Graduate Student Association, the Graduate Student Commons, the Departments of Literature, Politics, History of Art & Visual Culture, Latin American & Latino Studies, Anthropology, and Film & Digital Media.