This special event will be presented by The Humanities Institute in partnership with Bookshop Santa Cruz at San Mateo Performing Arts Center on September 21, 2019.
Why does a routine traffic stop end in tragedy?
How can a spy spend years hidden at the highest levels of the Pentagon?
Why is it so hard to detect a lie or judge a stranger's motives?
Why do we so often get other people wrong?
Malcolm Gladwell's latest book, Talking to Strangers: What We Should Know about the People We Don't Know, is an exploration of how we make sense of the familiar. His focus is on the "default to truth" theory–how our basic reaction to receiving any new information is to believe it–and the tragic results that often occur when we come into contact with people whose assumptions, perspectives, and backgrounds are different from our own.
The author of five New York Times bestsellers–The Tipping Point, Blink, Outliers, What the Dog Saw, and David and Goliath, Gladwell has been included in TIME magazine's list of 100 Most Influential People and named one of Foreign Policy's Top Global Thinkers. He has been a staff writer at the New Yorkersince 1996 and previously was a journalist at the Washington Post.
Gladwell's new book, his first is six years, will be published on September 10. And on September 21, The Humanities Institute at UC Santa Cruz and Bookshop Santa Cruz, will present "An Evening with Malcolm Gladwell" to discuss Talking to Strangers at the San Mateo Performing Arts Center.
As Gladwell puts it: "Something is very wrong with the tools and strategies we use to make sense of people we don't know. And because we don't know how to talk to strangers, we are inviting conflict and misunderstanding in ways that have a profound effect on our lives and our world."
The subjects in Talking to Strangers are often drawn straight from the news. They include a look at the gullibility of investors who lost fortunes to the deceptions of Bernie Madoff, the Italian government's case against Amanda Knox, the Jerry Sandusky pedophilia scandal at Penn State University, and the death of Sandra Bland, a young black woman who killed herself in police custody after she was arrested following a dispute with a Texas police officer.
He also uses research to re-examine Nevillle Chamberlain's trust of Adolph Hitler, and the suicide of Sylvia Plath, challenging traditional wisdom about their behavior and its motivations.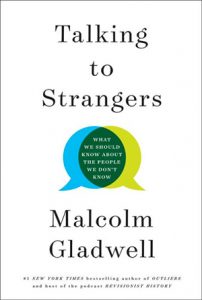 Last year, Gladwell co-founded Pushkin Industries, an audio content company that features his signature podcast, Revisionist History–"which reconsiders things both overlooked and misunderstood." The podcast has recently drawn as many as 3 million listeners per episode.
He is additionally the co-founder of the Broken Record podcast, where along with Rick Rubin and Bruce Headlam, he interviews musicians from a wide variety of genres.
But Gladwell is best known for his uncanny ability to make complex ideas and research accessible to a mass audience through stories that clearly illustrate their value. As he recently told The Guardian, "I'm just trying to get people to take human psychology seriously and to respect the complexity of human behavior and motivations."
Article originally published on UCSC NewsCenter.
---
The Humanities Institute (THI) at UC Santa Cruz, in partnership with Bookshop Santa Cruz, will present An Evening with Malcolm Gladwell at the San Mateo Performing Arts Center on Saturday, September 21, beginning at 7:00 p.m. For more information and tickets, visit the THI website.
Featured image credit: Celeste Sloman