The Humanities Institute is happy to announce this year's cohort of Coha / Gunderson Prize in Speculative Futures winners and honorable mentions. Every year, this competition celebrates mixed media work in speculative fiction from graduate and undergraduate students across campus. It was established by THI's Speculatively Scientific Fictions of the Future research cluster and made possible by alumni Peter Coha (Kresge '78, mathematics) and James Gunderson (Rachel Carson '77, philosophy, and UCSC Foundation Board Trustee).  This year's awardees are drawn from History of Arts and Visual Culture, Literature, Art, and Robotics Engineering. Carla Freccero, PI of the cluster, says that: "This year in particular, the winners and honorable mentions in the prize competition exemplify the efforts of the cluster to bring the sciences, social sciences, arts, and humanities together to imaginatively conceptualize creative meditations on the future while addressing critical concerns of the present." The 2021 selection committee awarded one graduate and undergraduate winner along with an honorable mention in each category. 
Graduate 
Winner: Aaron Samuel Mulenga, "From the Ground Up! Ulubuto" (HAVC, 2nd year)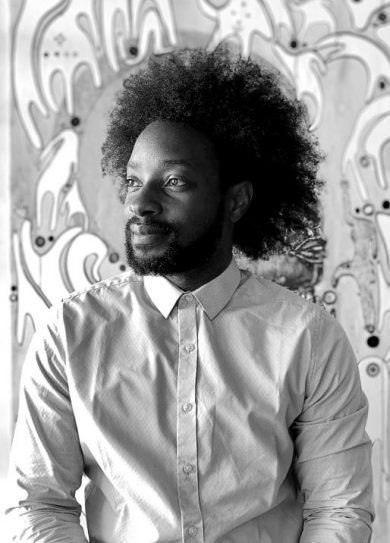 Mulenga submitted two images as part of a planned installation featuring sculptural, visual and sonic elements. One of the images submitted is in acrylic and coffee on canvas. The project focuses on a marriage ritual among the Bemba people of Zambia called Mbusa and aims to explore the effects of African culture and technology on understandings of the world. It combines a look backward toward ancestral practices with futurist element and especially Zambia's Space Project of the 1960s featuring three "Afronauts." Mulenga produces images that, as the selection committee explains, "allow us to imagine what the future … could look like as communities continue to communicate with the past." The committee chose Mulenga's submission for its originality, cultural relevance, and its beautiful combination of compelling images and conceptual elaboration.
Honorable Mention: Debbie Duarte, "Of Revenge and Futurity: Haunting and Colonial Legacies" (Literature, 3rd year)
Undergraduate
Winner: Saul Villegas, "Deep-Sea Coral II" (Art, 2nd year)
Villegas submitted an impressive in-progress portfolio of digitally altered archival photographs of the deep sea. He notes that the work "reimagines the deep-sea dives as an opportunity to visualize the abstract nature of the ocean." Focusing specifically on coral, Villegas explains, gives us access, "in their protein-based branches," to a kind of storytelling through time. The committee selected Villegas as last year's runner-up based on a different project, and they selected him as the undergraduate winner this year for his creative use of archival photographs, his ability to produce compelling images through "speculative design," his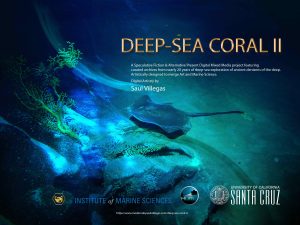 articulation of an eco-centric perspective in the lens of perception and, most importantly perhaps, his  creative ability to bring science and art together in a compelling narrative and set of images. 
Honorable Mention: Teresa Begley, "Survival in the Age of Human Machines" (first-year, proposed Robotics Engineering major, Crown College)
---
The winners of the Coha / Gunderson Prize in Speculative Futures will have the opportunity to further develop their submissions with members of the Speculatively Scientific Fictions of the Future cluster and present their projects to the public, whether through an exhibition, a performance, or future publication. We look forward to sharing these creative pieces!
---
Celebrate the winners of the Coha / Gunderson Prize in Speculative Futures and other student and faculty achievements at the annual Humanities Spring Awards on June 4th, 2021, at 4:00 p.m. RSVP required.