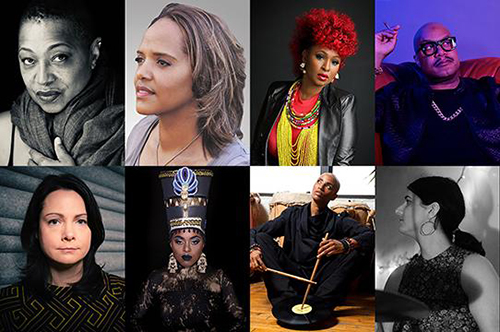 "Music for Abolition" is the name of a music video program that three-time Grammy-award winning musician Terri Lyne Carrington has curated over the past year for UCSC's Institute of the Arts and Sciences. 
Bringing together musicians across a wide variety of genres, it creates a soundtrack to the shared struggle for abolition and resolution in response to the ongoing history of racism and oppression in the United States.
The program is part of the Institute's extensive BarringFreedom initiative, which highlights the role of art, music, and visual culture in engaging and confronting issues of prisons, policing, and abolition in this country.
On Tuesday, May 18, the Institute of the Arts and Sciences will present a Music for Abolition artist panel featuring Carrington, along with a dozen prominent guest musicians, including Dianne Reeves, Camila Cortina Bello, Nicholas Payton, Lisa Fischer, Orrin Evans, Eric Revis, Nicole Mitchell, Queen Cora Coleman, Maimouna Youssef (Mumu Fresh), Sara Elizabeth Charles, and Cecile McLorin Salvant. 
They will all join together for an online conversation about the role of sound and music in the struggle for abolition. Video clips of their work will also be shown. Admission is free and open to the public with registration.
Carrington was invited to curate the music program by UCSC feminist studies professor Gina Dent, co-organizer of the "Visualizing Abolition" event series." 
"Music for Abolition has been such a gift over these last months, enlivening our speaking events and encouraging us through the pandemic," said Dent. "The amazing group of musicians that Terri has brought together have provided moving sonic explorations of the embodied and painful history and present of prisons and policing. What we hear in these sounds is the ringing-out of abolition–people working collectively together to reimagine a world filled with beauty and freedom, and allowing us to see and to hear the beauty that has always surrounded us and is in us."
Carrington worked as a New York session drummer in the mid 1980s before gaining national recognition as the house drummer for both the Arsenio Hall Show and Quincy Jones' VIBE TV show. In 1989, she released a Grammy-nominated debut CD on Verve Forecast, Real Life Story, and toured extensively with Wayne Shorter and Herbie Hancock. In 2011, she released the Grammy-award-winning album, The Mosaic Project, featuring a cast of all-star women instrumentalists and vocalists, and in 2013 she released Money Jungle: Provocative in Blue, which also won a Grammy, establishing her as the first woman ever to win in the Best Jazz Instrumental Album category.
She has performed on over 100 recordings and worked extensively with such artists as Al Jarreau, Stan Getz, Woody Shaw, Clark Terry, Cassandra Wilson, Dianne Reeves, James Moody, and Esperanza Spalding. She is also an honorary doctorate recipient from the Berklee College of Music, and currently serves as founder and artistic director for the Berklee Institute of Jazz and Gender Justice.
Carrington debuted her new band Social Science in 2019, releasing an eclectic double album, Waiting Game,to confront a wide spectrum of social justice issues—including mass incarceration, police brutality, homophobia, the genocide of indigenous Americans, and political imprisonment. It featured guests including MC's Rapsody, Maimouna Youssef (Mumu Fresh), Kokayi and Raydar Ellis, vocalist Mark Kibble (Take 6), and trumpeter Nicholas Payton, along with spoken word artists Malcolm Jamal-Warner and Meshell Ndegeocello, plus words of resistance drawn from recordings of Angela Davis, Leonard Peltier, Assata Shakur, and Mumia Abu Jamal. 
"It has been a real honor curating the musical contributions for Visualizing Abolition," said Carrington. "It has been an enlightening experience for myself and many of my musical colleagues, and has allowed us to look at these issues through the lens of some incredible artists and scholars. To create music having to do with circumstances, realities, and destinies that I could not yet imagine was not only exciting but also quite expansive, for which I am grateful."
"The symposium brought together an amazing cohort of creators whose work can now reflect each other's in some way or another, sharing messages, ideals, hopes, and dreams," she added. "In recognizing the bonds of our common humanity as artists and cultural workers, we not only strengthen ourselves and our existing communities, we participate in designing the future."
"Terri is an amazing musician and activist, with a commitment to thinking about and advocating for the roles music can play within struggles for social justice," said Rachel Nelson, director of UCSC's Institute of the Arts and Sciences. "As Terri has said, for artists and musicians, to create something that's transformational or helps point us in the direction of a different future—I think that's a big part of our roles."
---
The Music for Abolition: Artist Panel—featuring curator Terri Lyne Carrington and guest musicians—takes place on Tuesday, May 18, from 4 p.m. to 5:30. Admission to this online event is free and open to the public with registration.
---
Original Link: https://news.ucsc.edu/2021/05/music-for-abolition.html