Hello Deep Readers,
Each year, we invite curious minds (you!) to think deeply about books and the most pressing issues of our contemporary moment. Now in our fourth year, we wanted you to be the first to know the book we selected for the 2023 Deep Read.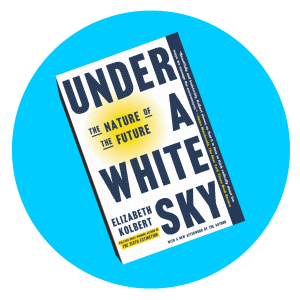 This Spring we are reading Elizabeth Kolbert's Under a White Sky, which explores the role that human ingenuity has played in creating climate change and the role it plays now in creating a sustainable future. This nonfiction book "expertly mixes travelogue, science reporting, and explanatory journalism, all with the authority of a writer confident enough to acknowledge ambiguity," says Carlos Lozada in the Washington Post.  
Together, we'll consider the stark changes taking place in the world and explore the efforts to adapt and survive in this era of climate change. We'll look at how a humanistic approach to the subject can help us navigate this difficult reality and live ethically in a period of ongoing climate crisis.
Look for information on picking up your book starting in January 2023. The program will kick off in Spring 2023 and culminate with an event featuring Kolbert on campus Sunday, May 21st. Sign up at the Deep Read page for updates.
In the meantime—stay attuned.
Irena Polić, Co-Director, The Deep Read
Sean Keilen, Co-Director, The Deep Read