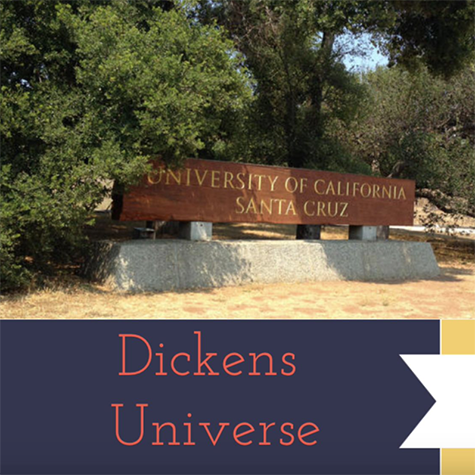 This summer, the Dickens Project at UC Santa Cruz—the largest multi-campus consortium on Victorian studies in the world—will present the 40th year of the Dickens Universe, a week of intense study and festivities, usually among the redwoods and focused on a novel by Charles Dickens.
The popular annual gathering draws an enthusiastic mix of scholars, teachers, students, and members of the general public, who all share a love of Dickens and his era.
The 2021 Dickens Universe takes place the week of July 26-30, and the featured book this year is one of Dickens' best known works, A Christmas Carol. Due to public health concerns, it will take place online for the second consecutive year.
Set against a background of social and economic distress during the early 1800s in London, A Christmas Carol is the story of one man's conversion from miserly misanthropy to a belief in the goodness of mankind and an acceptance of his place in the larger human community. The book is both an indictment of economic individualism and an exploration of dreams, memory, and the importance of self-reflection.
John Jordan, director and co-founder of the Dickens Project, explained why this particular book was selected as the featured novel this year.
"This will be our first attempt at a full-scale virtual Universe," said Jordan. "Last year, we had an online conference in July, but it was an abridged and more narrowly focused event, devoted to current research on Black Victorians and 19th-century Transatlantic studies. This year, while still in pandemic mode, we wanted to have a full-scale Universe or as close to one as we could get via Zoom, and we thought we should focus it around a familiar Dickens text that would attract wide interest. A Christmas Carol was the obvious choice. It's short; everyone knows it; and it's a Dickens favorite with many."
Jordan noted that A Christmas Carol has undergone countless adaptations and rewritings over the years, many of which will be addressed during the week-long program of events.
"It is a rich text with a remarkable afterlife," said Jordan. "There have been over 100 adaptations of the Carol in different media, including some famous film versions. This year's Universe will devote a lot of attention to that afterlife and to questions of adaptation."
"There will be a panel on Black Adaptations of A Christmas Carol, one on the Royal Shakespeare production (with Director David Edgar and Dickens scholar John Bowen), and one on the opera version (The Passion of Scrooge, with filmmaker Paul Moon and composer John Deak)," he added.
Other highlights of the week will include film screenings of The Passion of Scrooge, as well as a documentary about the making of the opera, plus a reading by celebrated actress Miriam Margolyes, who played the role of Professor Sprout in the Harry Potter film series.
Another special feature at this year's Universe will be a rare opportunity for participants to examine and work on transcribing the original manuscript of A Christmas Carol, under the direction of scholars and archival consultants from the Morgan Library in New York where the manuscript is housed, and the Victoria and Albert Museum in London.
Jordan reflected on why the work of Dickens is still important today for 21st-century audiences.
"A Christmas Carol has remained popular all these years for many reasons," said Jordan. "It addresses social issues that concerned Dickens over a century ago and that remain relevant today: poverty, inequity, class differences, education, disability, and individual responsibility. It is also a powerful story about the relationship between one's present life and one's past."
"Scrooge's experience of time travel is a brilliant metaphor for the process of introspection and self-confrontation that all thinking persons must engage in at one time or another," he added. "Among the lessons Scrooge must learn is that a life of possessive individualism is ultimately unsatisfying and that personal happiness must include meaningful connections with other people."
---
Original Link: https://news.ucsc.edu/2021/07/dickens-universe.html