This week we launched The Deep Read, our new program that invites curious minds to think deeply about literature, art, and the most pressing issues of our day. We're focusing on Margaret Atwood's The Testaments and have mailed and distributed hundreds of copies of the book this month. Amidst a growing global public health crisis, we know that these types of programs are vital to our community.
If you haven't signed up yet, it's not too late! Go to our Deep Read page to join the party.
To kick things off this week, we hosted a Salon at the Cowell Hay Barn. Students, faculty, staff, and local community members came out to discuss the The Testaments. Moderated by Laura Martin of Porter College, we heard a heady cross-section of UC Santa Cruz scholars discuss Atwood and her novel from a wide range of disciplines.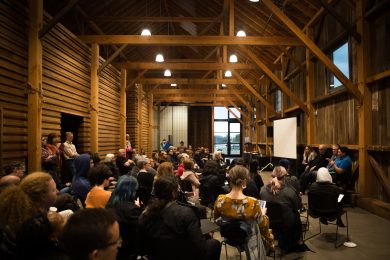 David Draper (Statistics) started the discussion by framing The Testaments and its characters as examples of Bayesian statistical analysis. Andrew Mathews (Anthropology) saw Atwood's writing as an ecological red flag—a cautionary tale to warn us of what might be waiting just around the corner. And Marcia Ochoa (Feminiist Studies) placed the novel within the larger scope of feminist history and intellelctual approaches.
These disparate takes on the novel show that there's no one way, or correct way, to read deeply. Nevertheless, there are many possibilities and ways in. The salon-style conversations were informative, enlightening, and set the perfect tone for the Deep Read.
Read more about the program in UC Santa Cruz's digital magazine, on the THI website, and—if you sign up—in your email inbox.