Events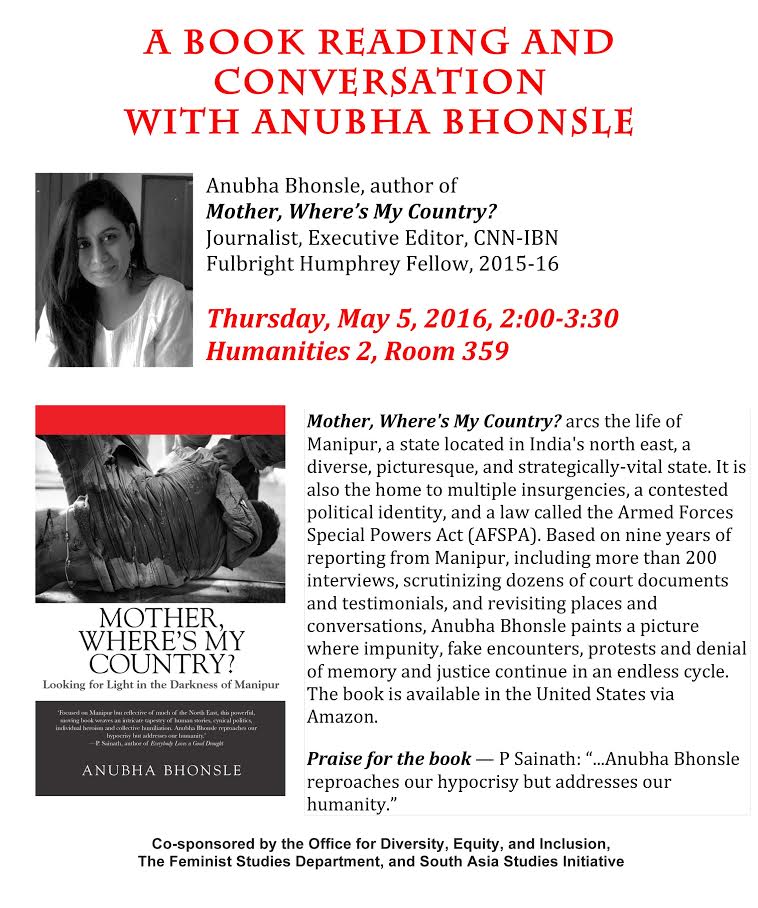 A Book Reading and Conversation with Anubha Bhonsle
May 5, 2016 @ 2:00 pm

-

3:30 pm

| Humanities 2, Room 359

Free
Share
The Feminist Studies Department, along with the South Asia Studies Initiative and the Office for Diversity, Equity and Inclusion, invite you join us for to a Book Reading & Conversation with Anubha Bhonsle!
Anubha Bhonsle, author of
Mother, Where's My Country?
Journalist, Executive Editor, CNN-IBN
Fulbright Humphrey Fellow, 2015-16
Mother, Where's My country? arc the life of Manipular, a state located in India's north east, a diverse, picturesque, and strategically-vial state. It is also home to multiple insurgencies, a contested political identity, and a law called the Armed Forces Special Powers Act (AFSPA). Based on nine years of reporting from Manipur, including more than 200 interviews, scrutinizing dozens of court documents and testimonials, and revisiting places and conversations, Anubha Bhonsle paints a picture where impunity, fake encounters, protests and denial of memory and justice continue in an endless cycle. The book is available in the United Sates via Amazon.
Praise for the book – P Sainath: "…Anubha Bhonsle reproaches our hypocrisy but addresses our humanity."