Events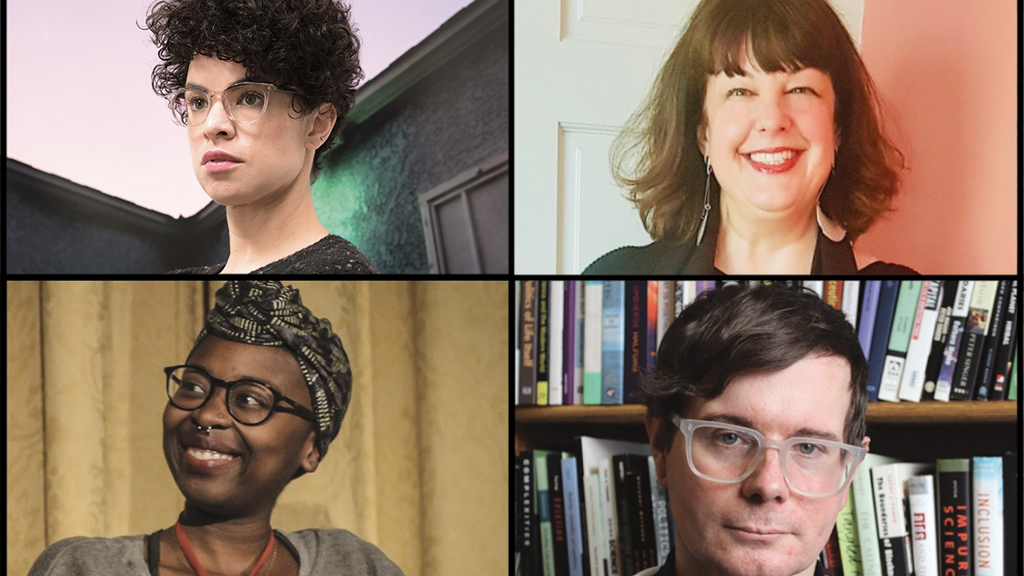 Abolition Beyond the State w/ Sadie Barnette, J. Kēhaulani Kauanui, Zoé Samudzi, and Eric Stanley
April 6, 2021 @ 4:00 pm

-

5:30 pm

| Virtual Event
Share
What role can the arts take in the movement to abolish prisons in addition to abolishing the society that upholds them? How can art and culture elevate other ways of living together, without relying on the fences, walls, and cages, which are both imagined and already practiced? Visualizing Abolition continues with Sadie Barnette, J. Kēhaulani Kauanui, Zoé Samudzi, and Eric Stanley discussing Abolition Beyond the State.


Visualizing Abolition is a series of online events organized by Professor Gina Dent, Feminist Studies and Dr. Rachel Nelson, Director, Institute of the Arts and Sciences. The events feature artists, activists, and scholars united by their commitment to the vital struggle for prison abolition. Originally, Visualizing Abolition was being planned as an in-person symposium. Due to the ongoing pandemic, the panels, artist talks, film screenings, and other events will instead take place online. The events accompany Barring Freedom, an exhibition of contemporary art on view at San José Museum of Art October 30, 2020-April 25, 2021. To accompany the exhibition, Solitary Garden, a public art project about mass incarceration and solitary confinement is on view at UC Santa Cruz.
Eric A. Stanley is an assistant professor in the Department of Gender and Women's Studies at the University of California, Berkeley. They are the author of Atmospheres of Vioelnce: Trans/ Queer Antagnoism and the Ungovernable (forthcoming Duke UP) and the coeditor of Trap Door: Trans Cultural Production and the Politics of Visibility and Captive Genders: Trans Embodiment and the Prison Industrial Complex.
Zoé Samudzi's research work engages the colonization of South West Africa (now Namibia) and genocidal productions of African identities on the continent. She is the graduate student intern at both UCSF's Multicultural Resource Center and the LGBT Resource Center. Zoé received her MSc in Health, Community, and Development from the London School of Economics, and her B.A. in Political Science from the University of Pittsburgh. Her work seeks to merge political theory, visual studies, and critical approaches to science in service of a multidisciplinary means of articulating blackness(es). Her writing has appeared in The New Inquiry, The New Republic, Art in America, Hyperallergic, and Arts.Black, and she is a contributing writer at Jewish Currents. Along with William C. Anderson, she is the co-author of As Black as Resistance: Finding the Conditions for Our Liberation (AK Press).
Sadie Barnette earned her BFA from CalArts and her MFA from the University of California, San Diego. Her work has been exhibited throughout the United States and internationally and is in the permanent collections of museums such as LACMA, Berkeley Art Museum, the California African American Museum, Studio Museum in Harlem (where she was also Artist-in-Residence), Brooklyn Museum and the Guggenheim. She is the recipient of Art Matters and Artadia awards and has been featured in publications such as The New York Times, The Los Angeles Times, Artforum, and Vogue. She lives in Oakland, CA and is represented by Charlie James Gallery in Los Angeles and Jessica Silverman Gallery in San Francisco.
J. Kēhaulani Kauanui (Kanaka Maoli) is Professor of American Studies and affiliate faculty in Anthropology at Wesleyan University, where she teaches courses on Indigenous studies, critical race studies, settler colonial studies, and anarchist studies. Kauanui earned her doctorate in History of Consciousness and the University of California, Santa Cruz. She is the author of Hawaiian Blood: Colonialism and the Politics of Sovereignty and Indigeneity (Duke University Press 2008) and Paradoxes of Hawaiian Sovereignty: Land, Sex, and the Colonial Politics of State Nationalism (Duke University Press 2018). She is also the editor of Speaking of Indigenous Politics: Conversations with Activists, Scholars, and Tribal Leaders (University of Minnesota Press 2018), which is based on the radio program she produced and hosted for seven years, "Indigenous Politics: From Native New England and Beyond" that was widely syndicated through the Pacifica radio network. Kauanui currently serves as a co-producer for an anarchist politics show called, "Anarchy on Air," a majority-POC show co-produced with a group of Wesleyan students, which builds on her earlier work on a related program, "Horizontal Power Hour." She is one of the six original co-founders of the Native American and Indigenous Studies Association (NAISA), established in 2008. Kauanui also serves as an advisory board member of the U.S. Campaign for the Academic and Cultural Boycott of Israel.
Visualizing Abolition is organized by UC Santa Cruz Institute of the Arts and Sciences in collaboration with San José Museum of Art and Mary Porter Sesnon Art Gallery. The series has been generously funded by the Nion McEvoy Family Trust, Ford Foundation, Future Justice Fund, Wanda Kownacki, Peter Coha, James L. Gunderson, Rowland and Pat Rebele, Porter College, UCSC Foundation, and annual donors to the Institute of the Arts and Sciences.
Partners include: Howard University School of Law, McEvoy Foundation for the Arts, Jessica Silverman Gallery, Indexical, The Humanities Institute, University Library, University Relations, Institute for Social Transformation, Eloise Pickard Smith Gallery, Porter College, the Center for Cultural Studies, the Center for Creative Ecologies, and Media and Society, Kresge College.