Events

Adom Getachew – Africa for the Africans: A History of Self-Determination before Decolonization
May 18, 2022 @ 12:15 pm

-

1:30 pm

| Virtual and In Person
Share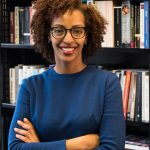 From the mid-nineteenth century into the twentieth, Africa for the Africans was the banner under which a range of pan-Africanists imaginaries and political projects were articulated. This lecture charts the transformations of this pan-African motto, examining in particular the shifting conceptions of "Africa" in the first two decades of the twentieth century. This event is co-sponsored by The Humanities Institute. Please note: this event is fully remote, with attendance only via Zoom.

The Center for Cultural Studies hosts a weekly Wednesday colloquium featuring work by faculty and visitors. We gather at 12:00 PM, with presentations beginning at 12:15 PM.
For Spring 2022, the colloquium will take a hybrid format, with the option of in-person or virtual attendance. Attendees have the option to attend in person in Humanities 210 or to watch the presentation on zoom. To attend remotely via zoom, please RSVP in advance, and you will receive a zoom link on the morning of the colloquium. In most cases, speakers will appear remotely so that they will not have to present wearing a mask. To RSVP for the full Spring colloquium series, please use this form. If you have any questions about the colloquium, please contact Piper Milton (cult@ucsc.edu).
Staff assistance is provided by The Humanities Institute.