Events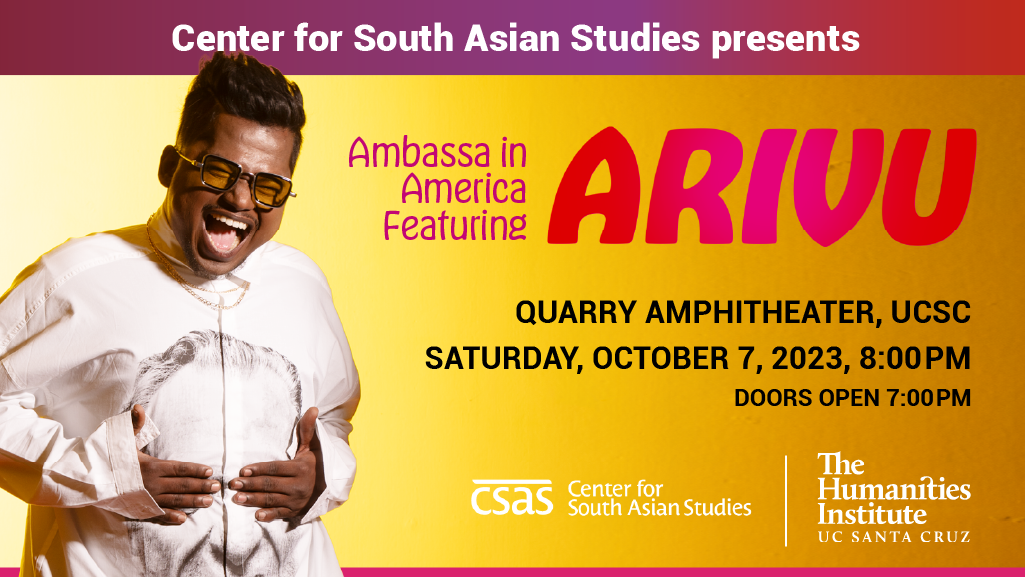 Ambassa in America featuring Arivu
October 7 @ 8:00 pm

-

10:00 pm

| Quarry Amphitheater
Share
ARIVU is a soulful composer, versatile song writer, fierce rapper and an energetic performer all fused into one package. He is best-known for his contributions in the global hit Single Enjoy Enjaami besides his hard-hitting political raps which made him one of the most powerful youth voice coming out of India.
Through his rebellious singles such as Anti-Indian, Kalla Mouni and Sanda Seivom, Arivu came to be known as a prodigal talent with the guts to speak truth to power. His first hip-hop album, THERUKURAL (2019), with Ofro, received widespread appreciation from the audience and rave reviews from critics.

Doors open at 7pm, show starts at 8pm
Presented by the Center for South Asian Studies
Arivu leads the Ambassa band, an experiment in bringing together the western elements of hip-hop, beat boxing and rock with our native sounds of Folk, Gana and Oppari. Ambassa's mission is to piece together the scattered elements of divided humanity and make it whole again through the celebrative as well as cathartic powers of music. Ambassa is celebration and peace.
Presently, Arivu is crafting his second studio album, Valliyamma Perandi which is scheduled to be out soon. You can find Arivu on Instagram (@therukural) and Twitter (@TherukuralArivu).
Band members: Gana Balachander aka Gana B – Singer; Sarath Kumar aka Sattiyaan – Percussionist; Chris Jason aka Chris Jason – Lead Guitarist; Kevin Jason aka Kevin Jason – Bass Guitarist
Music Video Links: