Events

C. Nadia Seremetakis – A Journey through Border Spaces of the Everyday
November 23, 2022 @ 12:15 pm

| Humanities 1, Room 210
Share
The border is the shared topos of the anthropologist, the historian, the archaeologist, the artist, the musician and the poet, as they all bring into dialogue the past and future  with the present, the inside with the outside, the particular with the general. Borders are the meeting points of mind and body, ideas and senses, science and literature. Any discourse therefore on the border is a discourse on dialogue—a dialogue that is meant to decenter.
Under conditions of globalization and trans-national processes, where there is no longer an inside and outside, earlier relationships of communication with the different others, human or nonhuman, present or absent, have changed. We rather exist in a pseudo-culture of sameness, much of which is simulated by the media.
In this lecture she explores border and trauma spaces through a journey of antiphonic witnessing and memory as a way of (re)establishing a self-reflexive relationship with the past that changes the positioning of the present. This has been the focus of my ethnographic work based on 30 years of conscious and unconscious fieldwork, writing, teaching and practicing multimedia public anthropology in various locales of the world. In this process, I reflect on my own antinomic subject position in my discipline as a so called "native," or "indigenous" ethnographer and also as a diasporic, American-trained, post-Boasian anthropologist.
Professor C. Nadia Seremetakis is best known for her acclaimed books The Senses Still: Perception and Memory as Material Culture in Modernity and The Last Word: Women Death & Divination in Inner Mani, based on long term fieldwork in urban and rural Greece.  She has written seven books in both English and Greek, including poetry, and several of her articles are translated in other languages. Her recent book Sensing the Everyday is a multi-sited ethnographic exploration of the quotidian in process; it weaves past and new fieldwork experiences as she journeys from Greece to Vienna, Edinburgh, Albania, Ireland, New York and beyond, and captures social crisis as a crisis of borders, cartographic, somatic and psychic.
Born and raised in Greece, she studied in New York where she lived for more than twenty years and taught at NYU, Vassar, and CUNY. In 2008 she joined the University of the Peloponnese where she also founded the first in Greece field-based multimedia Program on Everyday Life and Culture. Her engagement with public/applied anthropology in both continents includes designing/organizing public interdisciplinary multimedia events, publishing in the media, and holding advisory positions at the Hellenic Ministry of Health on matters of mobile populations, at the Regional Office for Europe of the World Health Organization, and at the Unesco National Committee for the Safeguarding of the Intangible Heritage.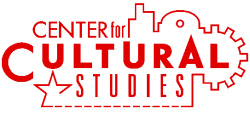 The Center for Cultural Studies hosts a weekly Wednesday colloquium featuring work by faculty and visitors. We gather at 12:00 PM, with presentations beginning at 12:15 PM.
Staff assistance is provided by The Humanities Institute.