Events

Martina Broner – From Arboreal to Aerial: Seeing the Amazon from Above
October 18 @ 12:00 pm

-

1:30 pm

| Humanities 1, Room 210
Share
Can seeing the Amazon from above bring about new perspectives on the forest at a critical time? This talk proposes that the documentary Helena Sarayaku manta (dir. Eriberto Gualinga, 2021) rethinks the aerial view by pushing against its historical associations with omniscience and a desire for mastery and by reframing it instead around the vitality of the forest in a site that resists exploitation: the Indigenous territory of Sarayaku in the Ecuadorian Amazon. As I examine the role of trees in the film's production, I argue that Helena Sarayaku manta achieves this new aerial grammar through an attunement to the arboreal.
Martina Broner's research sits at the intersection of Latin American cinema and media studies and the environmental humanities. Her book manuscript, "Forest Formats: Media and Environment in the Amazon," examines new media formats that emerge from entanglements between human and other living entities in the transnational Amazon rainforest. She is assistant professor in the Department of Spanish and Portuguese at Dartmouth.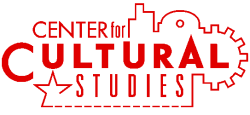 The Center for Cultural Studies hosts a weekly Wednesday colloquium featuring work by faculty and visitors. We gather at 12:00 PM, with presentations beginning at 12:15 PM.
Staff assistance is provided by The Humanities Institute.