Events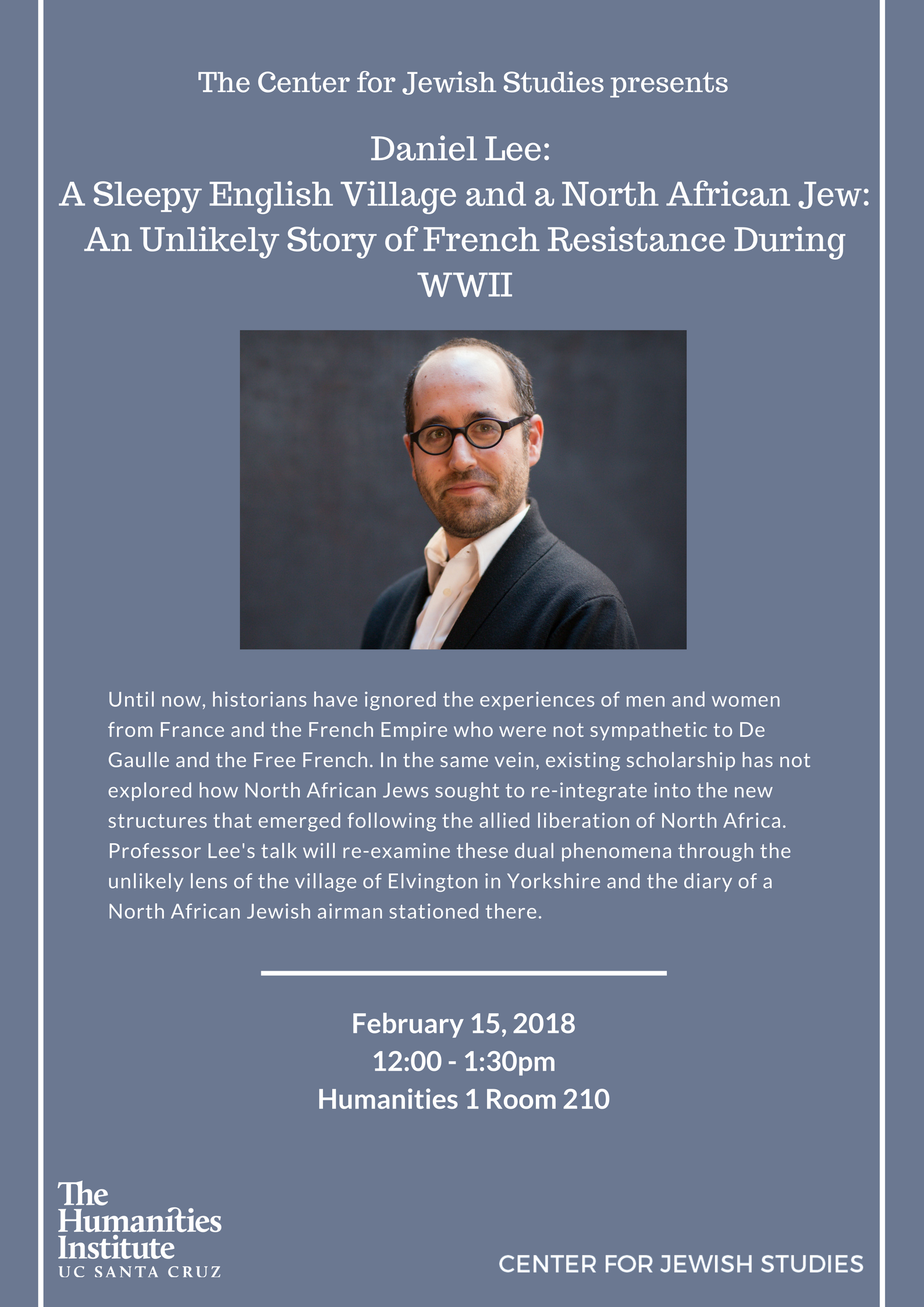 Daniel Lee: "A Sleepy English Village and a North African Jew: An Unlikely Story of French Resistance during World War Two"
February 15, 2018 @ 12:00 pm

-

1:30 pm

| Humanities 1, Room 210

Free
Share
The story of the Free French who rallied to Charles de Gaulle in London following the fall of France in June 1940 is well-known. But until now, historians have ignored the experiences of men and women from France and the French Empire who were not sympathetic to De Gaulle and the Free French, but who nonetheless fought in Britain for the allied cause. In the same vein, existing scholarship has not explored how North African Jews, persecuted by Vichy antisemitic laws, sought to re-integrate into the new structures that emerged following the allied liberation of North Africa in November 1942. This talk will re-examine these dual phenomena through the unlikely lens of the village of Elvington in Yorkshire and the diary of a North African Jewish airman stationed there, whose story reveals a new Sephardi perspective on World War Two.
Event Photos:

If you have trouble viewing above images, you may view this album directly on Flickr.
Daniel Lee is a Vice-Chancellor's Fellow in the Department of History at the University of Sheffield. Before joining Sheffield in 2015, Lee was a British Academy postdoctoral fellow at Brasenose College, Oxford. His first book, Pétain's Jewish Children: French Jewish Youth and the Vichy Regime, 1940–1942 was published with Oxford University Press in 2014. He has held fellowships at the Institute of Historical Research, the European University Institute, Yad Vashem and the United States Holocaust Memorial Museum. As a BBC Radio 3 New Generation Thinker, Lee is a regular broadcaster on radio.