Events

Dávila Santiago and Robles Gutiérrez – Puerto Rico: Filming Resistance and Survival
March 3, 2020 @ 7:00 pm

-

9:30 pm

| DNA Comedy Lab
Share
For the last four years, Puerto Ricans have experienced challenges that will leave an indelible mark on their collective memory and history. In 2016, the U.S. government started to implement extreme austerity measures on the island and in 2017, the island experienced one of the most devastating hurricanes from the past 100 years. In 2019, weeks of massive street protests resulted in the successful ouster of former governor Ricardo Rosselló, the first governor to ever resign in Puerto Rico's history. Over the course of this period, filmmaker Juan C. Dávila has been traveling back-and-forth to Puerto Rico to film these historic moments in Puerto Rican history. This event will showcase his most important work from this time.
As part of the program, we will screen a short film as well as a work-in-progress about his new upcoming long-form film project, which follows the resistance movement #SeAcabaronLasPromesas (The Promises Are Over), a movement that was born in 2016 in opposition to the new colonial measures imposed by the U.S. Congress over Puerto Rico. Dávila explores the organization of the movement as they occupy the streets, and engage in the necessary community work that is part of any social movement uprising. The films capture the voices of the young and unemployed, the elderly without pensions, the peasants without land, the communities without schools, and the survivors of over 500 years of colonialism.
Post-screening Q&A facilitated by Prof. B. Ruby Rich with film director Juan C. Dávila and activist Marisel Robles Gutierrez.
Event is free and open to the public with advance registration required.
Co-Sponsored by the Research Center for the Americas and The Humanities Institute, Colleges Nine and Ten, Environmental Studies Pepper-Giberson Endowed Chair, Film and Digital Media Department, Kresge College, Latin American and Latino Studies Department, Oakes College, Politics Department, Sociology Department, and The Institute for Social Transformation.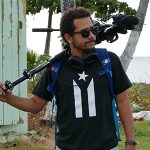 Juan C. Dávila Santiago is an award-winning documentary filmmaker, multi-media journalist, and PhD student of Latin American and Latinx Studies at UC Santa Cruz. Dávila Santiago has directed two feature documentary films: Compañeros de lucha (2012) and Vieques: una batalla inconclusa (2016). Dávila Santiago currently works as a correspondent for Democracy Now! and his work has also been featured in TeleSur, the Huffington Post, and The Washington Post. He holds a Bachelor in Arts of Communication from Universidad del Sagrado Corazón in Puerto Rico (2011) and a Master of Arts in Social Documentation from UC Santa Cruz (2015). Currently, he is the artist in residence of Agitarte, a cultural organization of working-class artists based in Puerto Rico, whose work focuses on supporting grassroots social movements, and agitating for liberation.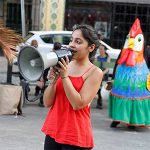 Marisel Robles Gutiérrez is an activist and organizer from the movement "Jornada se acabaron las promesas." She was born and raised in Río Piedras, Puerto Rico. During her undergraduate studies at the University of Puerto Rico in Mayagüez, she actively participatied in the student strike of 2010. Robles Gutiérrez began her radical political formation with the International Socialist Organization (OSI in Spanish), and became a central figure in developing "Jornada Se Acabaron Las Promesas," which became the main force of opposition to a Fiscal Control Board instituted by the US Congress to push austerity measures in Puerto Rico. She currently works as a coordinator in the Mutual Aid Center "Olla Común" and supports the project of "Comedores Sociales de Puerto Rico."