Events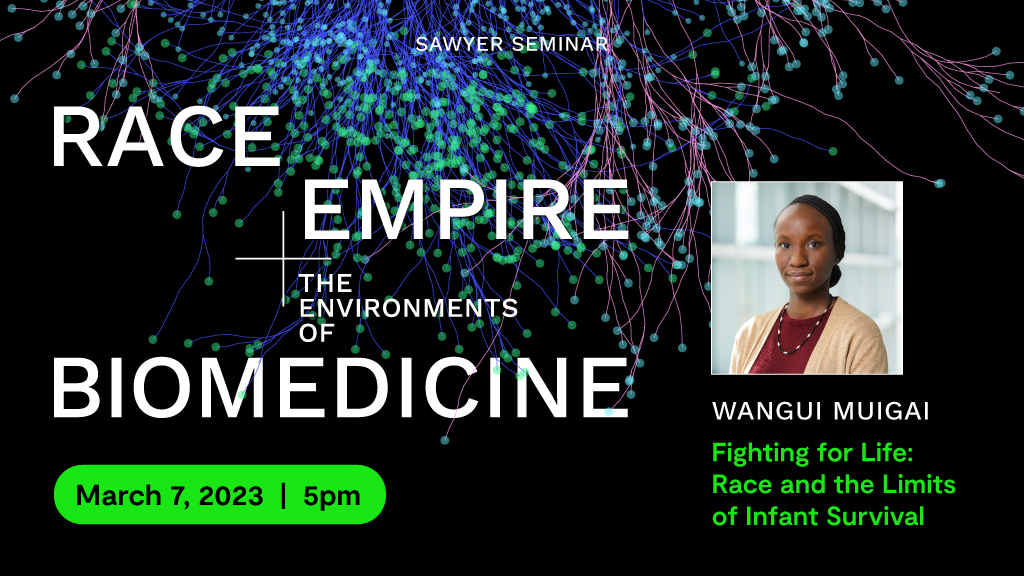 Fighting for Life: Race and the Limits of Infant Survival
March 7 @ 5:00 pm

-

6:30 pm

| University Center, Bhojwani Room
Share
Join Dr. Wangui Muigai as she charts the history of one of the most enduring health disparities in America, the racial gap in infant survival. Drawing on a trove of historical records and archival materials, this talk follows Black families as they have journeyed from birthing rooms to burial grounds, fighting for the ability to birth and nurture healthy babies. In charting the historical landscapes of Black infant death across the nineteenth and twentieth centuries, Dr. Muigai will examine the role of cultural practices, medical theories, and communal initiatives to explain and address the causes of Black infant death. The talk considers the legacy of these ideas and efforts in ongoing struggles to preserve Black life.
Wangui Muigai is an Assistant Professor at Brandeis University in the departments of History, African & African American Studies and the Health: Science, Society, and Policy Program. Dr. Muigai was named a 2022 Andrew Carnegie Fellow and selected as a Class of 2025 Fellow in the Greenwall Faculty Scholars Program in Bioethics. Her first book, on the history of infant death in the Black experience, is forthcoming with Harvard University Press.
Parking at the University Center: Please follow the directional signs for "Fighting for Life" from the base of campus to College Nine/John R. Lewis lot 165. Parking attendants will be on site for attendees to buy parking permits. From lot 165, there will be walking directional signs to the University Center, which is above the College Nine/John R. Lewis Dining Hall.
The event is part of the year long Mellon Sawyer Seminar series Race, Empire, and the Environments of Biomedicine.