Events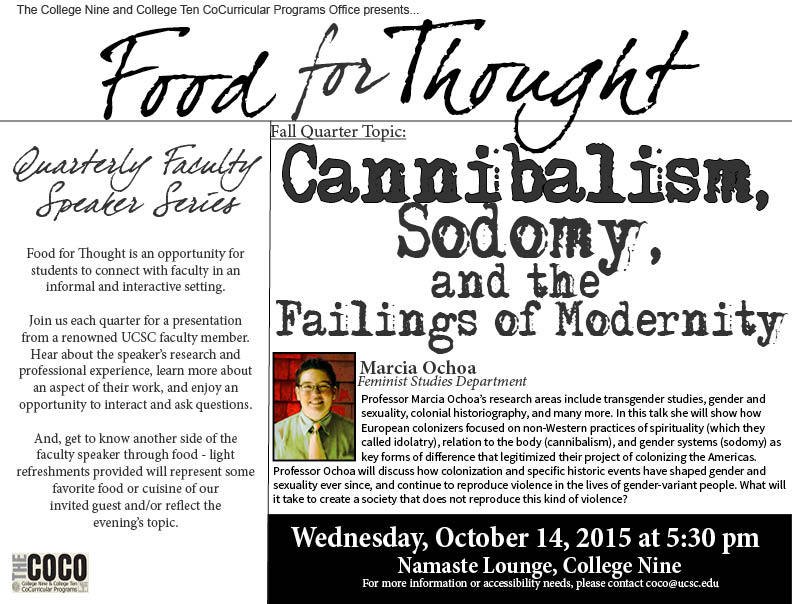 Food for Thought: Marcia Ochoa on Colonialism impact on current views of gender and sexuality
October 14, 2015 @ 5:30 pm

-

7:00 pm

| Namaste Lounge, College 9

Free
Share
Cannibalism, Sodomy, and the Failings of Modernity
Marcia Ochoa, Feminist Studies Department
Professor Marcia Ochao's research areas include transgender studies, gender and sexuality, colonial historiography, and many more. In this talk she will show how European colonizers focused on non-Western practices of spirituality (which they called idolatry), relation to the body, (cannibalism), and gender systems (sodomy) as key forms of difference that legitimized their project of colonizing the Americas. Professor Ochoa will discuss how colonization and specific historic events have shaped gender and sexuality ever since, and continue to reproduce violence in the lives of gender-variant people. What will it take to create a society that does not reproduce this kind of violence?
Food for Thought is an opportunity for students to connect with faculty in an informal and interactive setting. Join us each quarter for a presentation from a renowned UCSC faculty member. Hear about the speaker's research and professional experience, learn more about an aspect of their work, and enjoy an opportunity to interact and ask questions. And, get to know another side of the faculty speaker through food – light refreshments provided will represent some favorite food or cuisine of our invited guest and/or reflect the evening's topic.
For more information or accessibility needs, please contact coco@ucsc.edu.