Events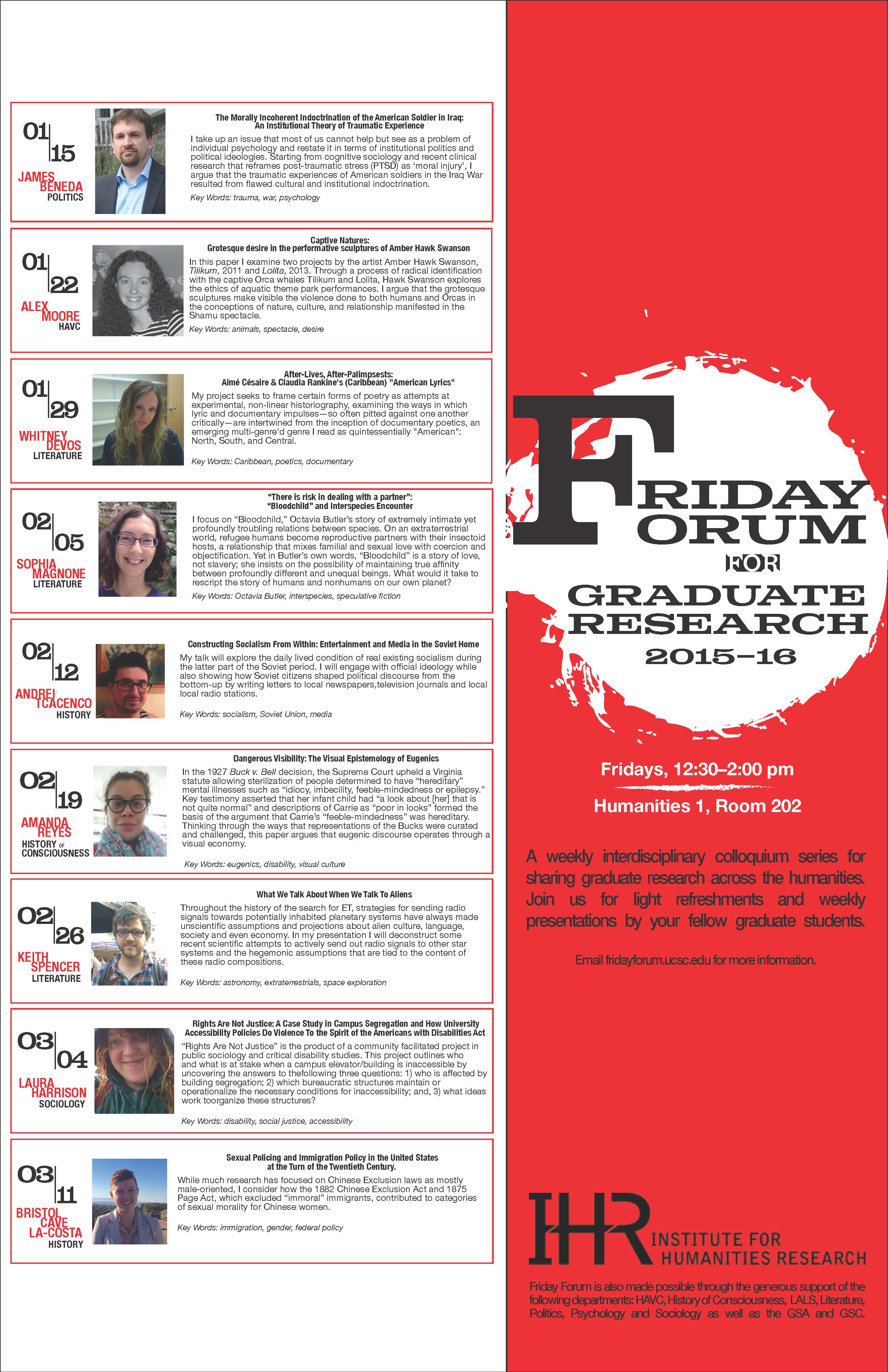 Friday Forum for Graduate Research: Amanda Reyes
February 19, 2016 @ 12:30 pm

-

2:00 pm

| Humanities 1, Room 202

Free
Share
Amanda Reyes
Dangerous Visibility: The Visual Epistemology of Eugenics
In the 1927 Buck v. Bell decision, the Supreme Court upheld a Virginia statute allowing sterilization of people determined to have "hereditary" mental illnesses such as "idiocy, imbecility, feeble-mindedness or epilepsy." Key testimony asserted that her infant child had "a look about [her] that is not quite normal" and descriptions of Carrie as "poor in looks" formed the basis of the argument that Carrie's "feeble-mindedness" was hereditary. Thinking through the ways that representations of the Bucks were curated and challenged, this paper argues that eugenic discourse operates through a visual economy.
---
Friday Forum Winter 2015 Schedule
Fridays, 12:30 – 2:00pm
Humanities 1, Room 202
A weekly interdisciplinary colloquium series for sharing graduate research across the humanities. Join us for light refreshments and weekly presentations by your fellow graduate students.
January 15- James Beneda, Politics
January 22- Alex Moore, HAVC
January 29- Whitney Devos, Literature
February 5- Sophia Magnone, Literature
February 12- Andrei Tcacenco, History
February 19- Amanda Reyes, History & Consciousness
February 26- Keith Spencer, Literature
March 4- Laura Harrison, Sociology
March 11- Bristol Cave La-Costa, History