Events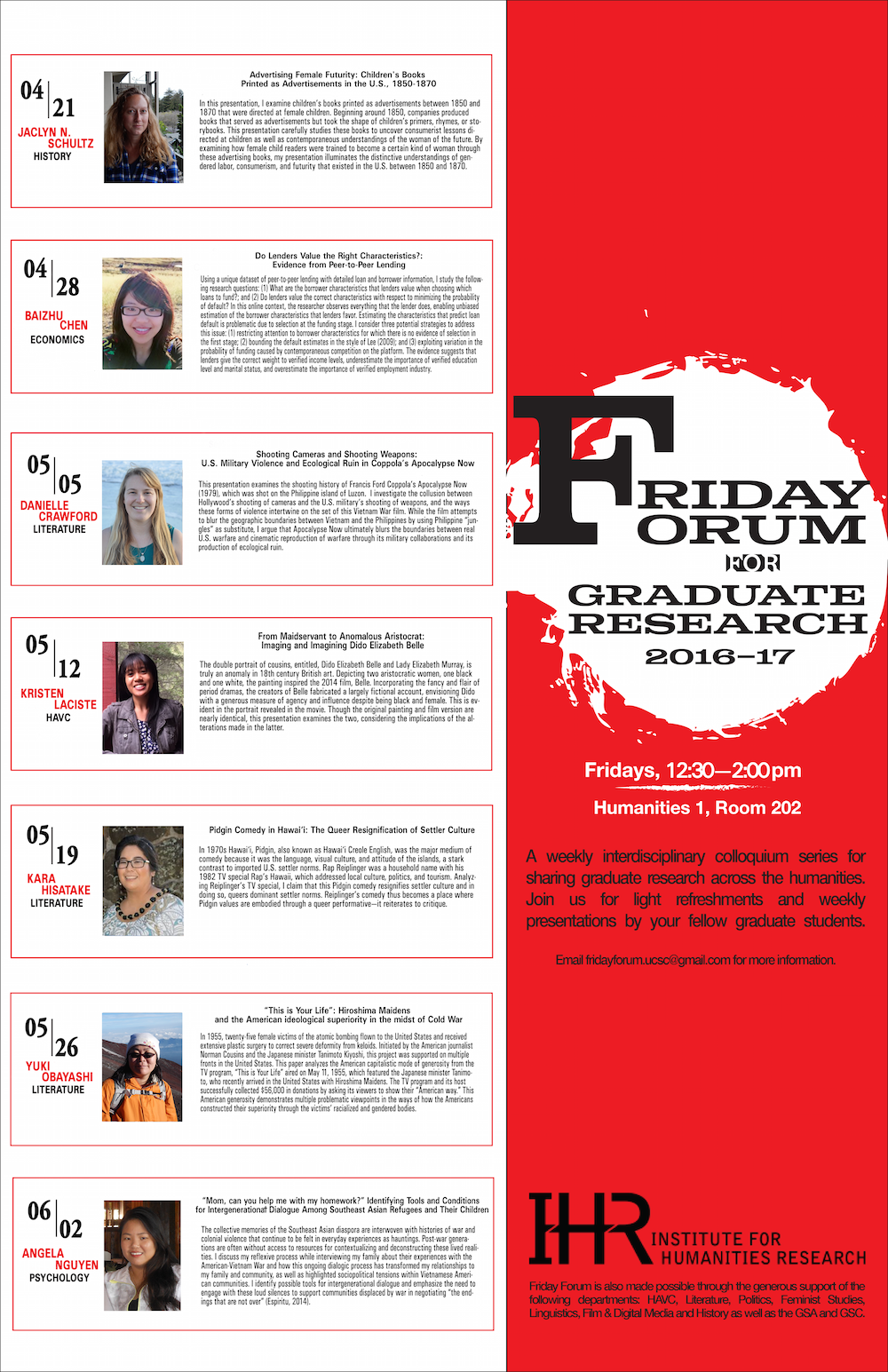 Friday Forum for Graduate Research: Angela Nguyen
June 2, 2017 @ 12:00 pm

-

2:00 pm

| Humanities 1, Room 202
Share
"Mom, can you help me with my homework?" Identifying Tools and Conditions for Intergenerational Dialogue Among Southeast Asian Refugees and Their Children
The collective memories of the Southeast Asian diaspora are interwoven with histories of war and colonial violence that continue to be felt in everyday experiences as hauntings. Post-war generations are often without access to resources for contextualizing and deconstructing these lived realities. I discuss my reflexive process while interviewing my family about their experiences with the American-Vietnam War and how this ongoing dialogic process has transformed my relationships to my family and community, as well as highlighted sociopolitical tensions within Vietnamese American communities. I identify possible tools for intergenerational dialogue and emphasize the need to engage with these loud silences to support communities displaced by war in negotiating "the ending that are not over" (Espiritu, 2014).
Friday Forum Spring quarter 2017 Schedule:
Fridays 12:30-2pm
Humanities 1 Room 202
A weekly interdisciplinary colloquium series for sharing graduate research across the humanities. Join us for light refreshments and weekly presentations by your fellow graduate students.
April 21, 2017: Jaclyn N. Schultz, History
April 28, 2017: Baizhu Chen, Economics
May 5, 2017: Danielle Crawford, Literature
May 12, 2017: Kristen Laciste, HAVC
May 19, 2017: Kara Hisatake, Literature
May 26, 2017: Yuki Obayashi, Literature
June 2, 2017: Angela Nguyen, Psychology