Events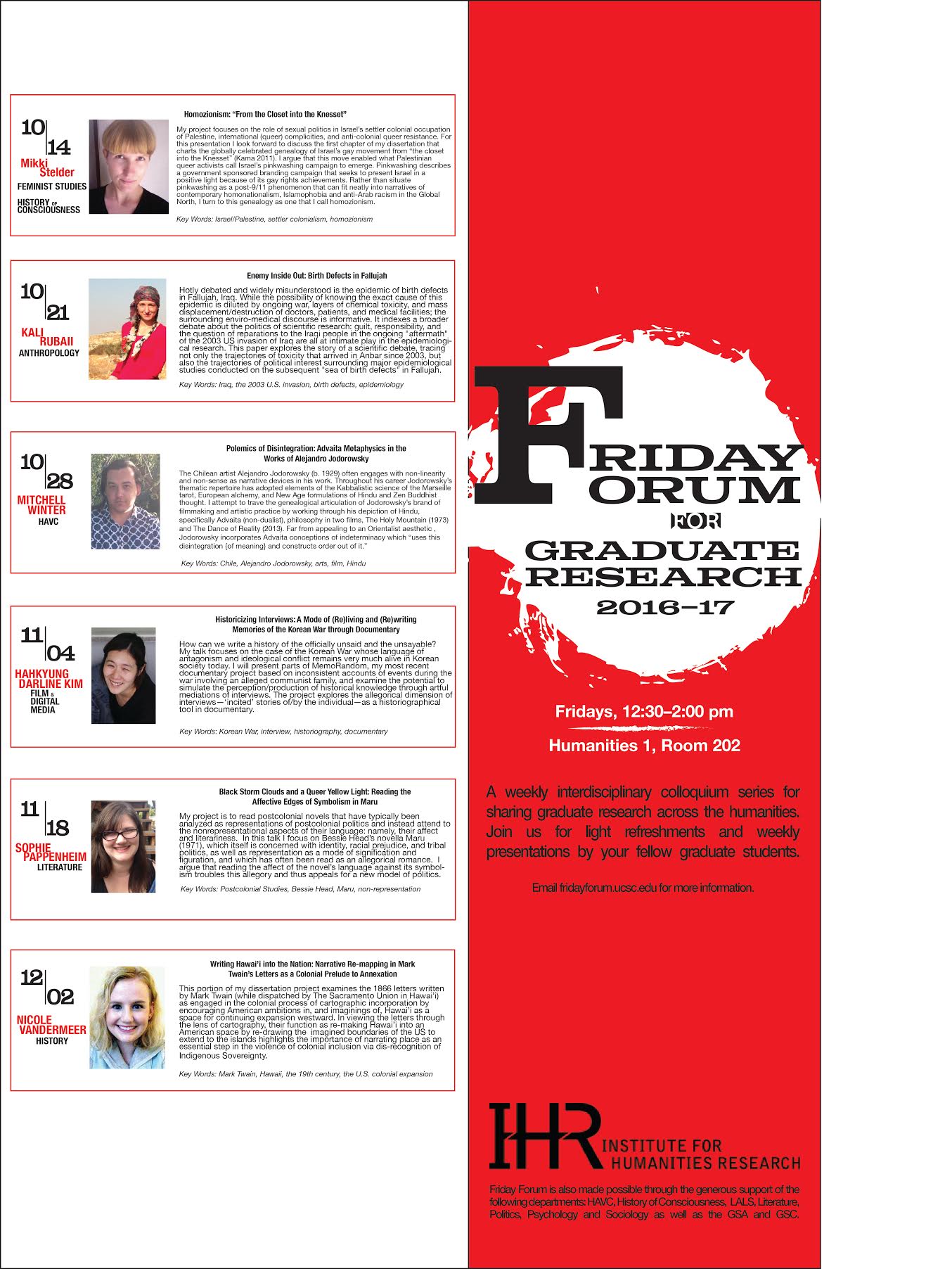 Friday Forum for Graduate Research: Kali Rubaii
October 21, 2016 @ 12:30 pm

-

2:00 pm

| Humanities 1, Room 202

Free
Share
"Enemy Inside Out: Birth Defects in Fallujah"
Hotly debated and widely misunderstood is the epidemic of birth defects in Fallujah, Iraq. While the possibility of knowing the exact cause of this epidemic is diluted by ongoing war, layers of chemical toxicity, and mass displacement/destruction of doctors, patients, and medical facilities; the surrounding enviro-medical discourse is informative. It indexes a broader debate about the politics of scientific research: guilt, responsibility, and the question of reparations to the Iraq people in the ongoing "aftermath" of the 2003 US invasion of Iraq are all at intimate play in the epidemiological research. This paper explores the story of a scientific debate, tracing not only the trajectories of toxicity that arrived in Anbar since 2003, but also the trajectories of political interest surrounding major epidemiological studies conducted on the subsequent "sea of birth defects" in Fallujah.
---
Friday Forum Fall 2016 Schedule:
Fridays 12:20-2pm
Humanities 1 Room 202
A weekly interdisciplinary colloquium series for sharing graduate research across the humanities. Join us for light refreshments and weekly presentations by your fellow graduate students.
October 14th- Mikki Stelder, Feminist Studies and History of Consciousness
October 21st- Kali Rubaii, Anthropology
October 28th- Mitchell Winter, HAVC
November 4th- Hahkyung Darline Kim, Film and Digital Media
November 18th- Sophi Pappenheim, Literature
December 2nd- Nicole Vandermeer, History