Events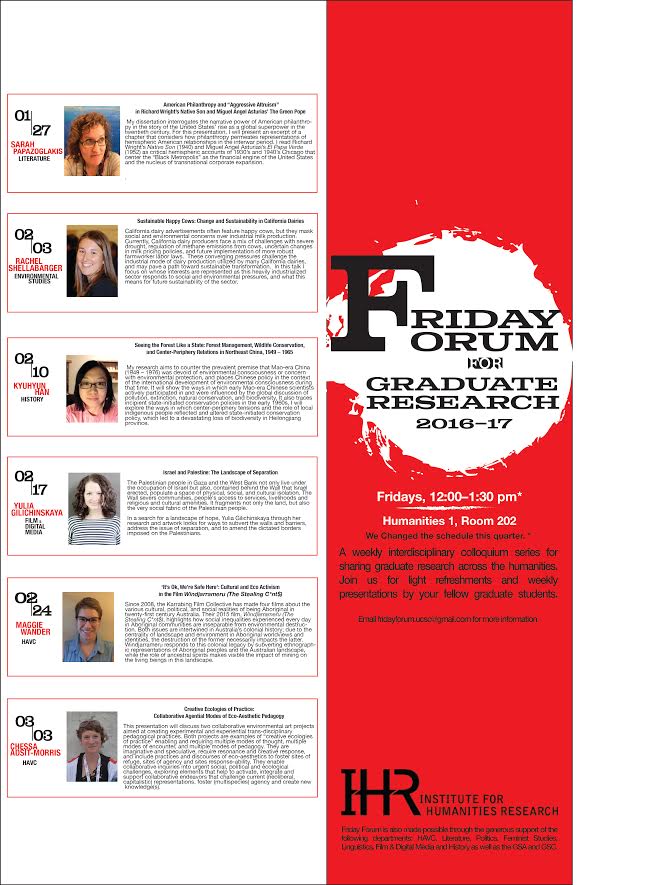 Friday Forum for Graduate Research: Maggie Wander
February 24, 2017 @ 12:00 pm

-

1:30 pm

| Humanities 1, Room 202

free
Share
"Its Ok,  We're Safe Here": Cultural and Eco Activism in the Film Windjarrameru (The Stealing C*nt$)
Since 2008, the Karrabing Film Collective has made four films about the various cultural, political, and social realists of being Aboriginal in twenty-first century Australia. Their 2015 film, Windjarrameru (The Stealing C*nt$), highlights how social inequalities experienced every day in Aboriginal communities are inseparable from environmental destruction. Both issues are intertwined in Australia's colonial history; due to the centrality of landscape and environment in Aboriginal worldviews and identities, the destruction of the former necessarily impacts the latter. Windjarrameru responds to this colonial legacy by subverting ethnographic representations of Aboriginal peoples and the Australian landscape, while the role of ancestral spirits makes visible the impact of mining on the living beings in this landscape.
Friday Forum Winter quarter 2017 Schedule:
Fridays 12:20-2pm
Humanities 1 Room 202
A weekly interdisciplinary colloquium series for sharing graduate research across the humanities. Join us for light refreshments and weekly presentations by your fellow graduate students.
January 27, 2017: Sarah Papazoglakis, Literature
February 03, 2017: Rachel Shellabarger, Environmental Studies
February 10, 2017: Kyuhyun Han, History
February 17, 2017: Yulia Gilchinskaya, Film & Digital Media
February 24, 2017: Maggie Wander, HAVC
March 3, 2017: Chessa Adsit-Morris, HAVC