Events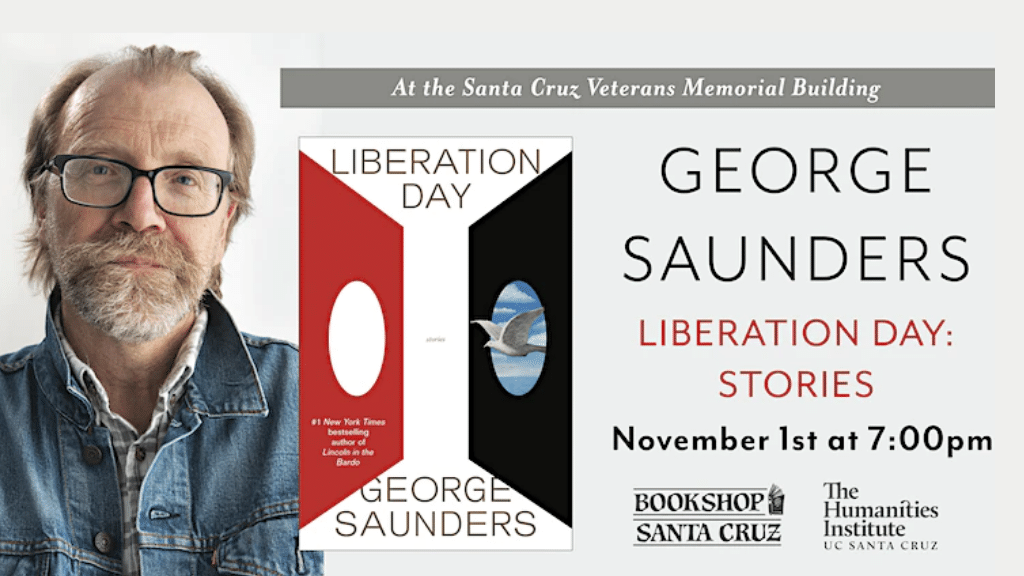 George Saunders, Liberation Day
November 1, 2022 @ 7:00 pm

| Santa Cruz Veterans Memorial Building
Share
We are delighted to welcome award-winning writer George Saunders for an event to celebrate the release of his new book, Liberation Day: Stories—a masterful collection that explores ideas of power, ethics, and justice, and cuts to the very heart of what it means to live in community with our fellow humans.
This event is cosponsored by Bookshop Santa Cruz and KAZU 90.3 and will take place at the Santa Cruz County Veterans Memorial Building, 846 Front Street, Santa Cruz.
Guests can purchase tickets here. Each ticket includes admission to the event plus one signed hardcover copy of Liberation Day.
George Saunders is the #1 New York Times bestselling author of eleven books, including A Swim in a Pond in the Rain; Lincoln in the Bardo, which won the Booker Prize; Congratulations, by the Way; Tenth of December, a finalist for the National Book Award and winner of the inaugural Folio Award; The Braindead Megaphone; and the critically acclaimed collections CivilWarLand in Bad Decline, Pastoralia, and In Persuasion Nation. He teaches in the creative writing program at Syracuse University.