Events

Daniella Farah: Jews in post-WWII Iran – Patriotism, national belonging, integration, and identity
February 11, 2021 @ 11:40 am

-

1:15 pm

| Virtual Event
Share
Daniella Farah (Ph.D. candidate at Stanford University) will speak in HIS 74B about the effects of the Second World War on Jews in Iran and how this period shaped their political subjectivities. Jews have lived in Iran for over 2,500 years, with a population of 100,000 at their height in 1945. Today, Iran contains the largest number of Jews in the Middle East outside of Israel. During the twentieth century, Iranian Jews experienced rapid upward mobility, migrated within the country and abroad, and participated in Iran's major political and social movements. Yet, despite this rich history, it is only in the last ten years that scholars have started giving Iranian Jewish History serious academic attention. In this talk, Daniella will offer a broad survey of Iranian Jewish history from the mid-1940s to the early 1980s. She will focus on these themes: the socioeconomic mobility of Iranian Jews, identity formation, proclamations of loyalty and belonging to the nation, Jewish-Muslim interactions, and the intersection of education and integration.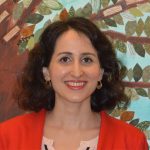 Daniella Farah is a PhD Candidate in Jewish History at Stanford University and is the daughter of Iranian Jewish emigres. She specializes in the sociocultural histories of the Jews of the modern Middle East, with a specific geographic focus on Iran and Turkey. Her work is situated at the intersection of Modern Jewish History, Middle Eastern History, Education History, and Transnational Studies. Her article, "'The school is the link between the Jewish community and the surrounding milieu': Education and the Jews of Iran from the mid-1940s to the late 1960s," is forthcoming with the journal of Middle Eastern Studies.
HIS 74B "Introduction to Middle Eastern and North African Jewish History, 1500-2000" surveys modern Jewish history from Morocco to Iran, 1500-2000. Studying these populations through original documents, scholarly works, and literature imparts a unique perspective on both modern Jewish history and that of the region, challenging and complementing standard narratives of each.
This course is supported by the Humanities Institute, the Center for Jewish Studies, and The Neufeld Levin Chair in Holocaust Studies.