Events

John W. Reid, "Ever Green: Saving Big Forests to Save the Planet"
March 29, 2022 @ 6:00 pm

-

8:00 pm

| Virtual Event
Share
Five stunningly large forests remain on Earth: the Taiga, extending from the Pacific Ocean across all of Russia and far-northern Europe; the North American boreal, ranging from Alaska's Bering seacoast to Canada's Atlantic shore; the Amazon, covering almost the entirety of South America's bulge; the Congo, occupying parts of six nations in Africa's wet equatorial middle; and the island forest of New Guinea, twice the size of California.
These megaforests are vital to preserving global biodiversity, thousands of cultures, and a stable climate, as economist John W. Reid and celebrated biologist Thomas E. Lovejoy argue convincingly in Ever Green. Megaforests serve an essential role in decarbonizing the atmosphere–the boreal alone holds 1.8 trillion metric tons of carbon in its deep soils and peat layers, 190 years' worth of global emissions at 2019 levels–and saving them is the most immediate and affordable large-scale solution to our planet's most formidable ongoing crisis.
Reid and Lovejoy offer practical solutions to address the biggest challenges these forests face, from vastly expanding protected areas, to supporting Indigenous forest stewards, to planning smarter road networks. In gorgeous prose that evokes the majesty of these ancient forests along with the people and animals who inhabit them, Reid and Lovejoy take us on an exhilarating global journey.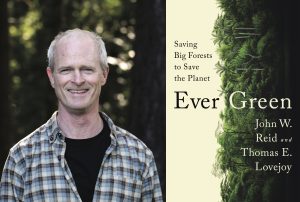 John W. Reid is a conservationist and economist whose writing has appeared in outlets including the New York Times and Scientific American. He is the founder and former head of Conservation Strategy Fund, winner of the MacArthur Foundation Award for Creative and Effective Institutions. He currently serves as senior economist for the nonprofit Nia Tero and lives in Sebastopol, California.
This event is co-sponsored by Bookshop Santa Cruz and The Humanities Institute.