Events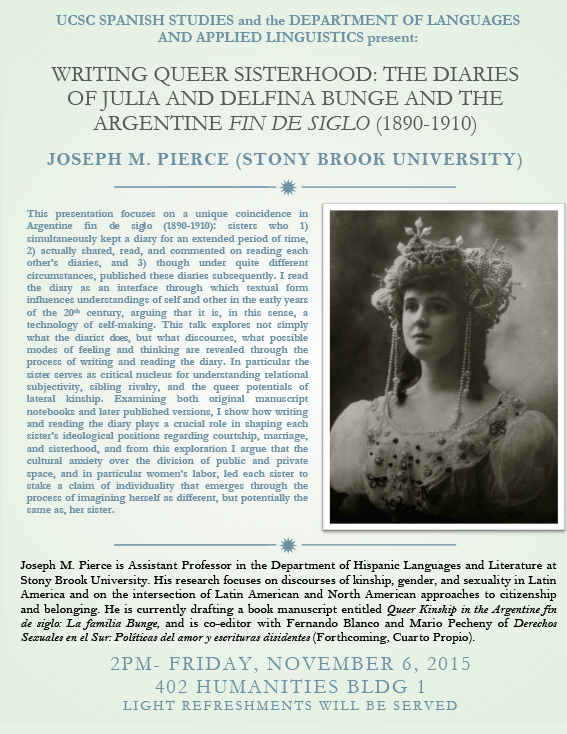 Joseph M. Pierce: "Writing Queer Sisterhood: The Diaries of Julia and Delfina Bunge and the Argentine Fin de Siglo (1890-1910)"
November 6, 2015 @ 2:00 pm

-

3:30 pm

| Humanities 1, Room 402

Free
Share
This presentation focuses on a unique coincidence in Argentine fin de siglo (1890-1910): sisters who 1) simultaneously kept a diary for an extended period of time, 2) actually shared, read, and commented on reading each other's diaries, and 3) though under quite different circumstances, published these diaries subsequently. I read the diary as an interface through which textual form influences understandings of self and other in the early years of the 20th century, arguing that it is, in this sense, a technology of self-making. This talk explores not simply what the diarist does, but what discourses, what possible modes of feeling and thinking are revealed through the process of writing and reading the diary. In particular the sister serves as critical nucleus for understanding relational subjectivity, sibling rivalry, and the queer potentials of lateral kinship. Examining both original manuscript notebooks and later published versions, I show how writing and reading the diary plays a crucial role in shaping each sister's ideological positions regarding courtship, marriage, and sisterhood, and from this exploration I argue that the cultural anxiety over the division of public and private space, and in particular women's labor, led each sister to stake a claim of individuality that emerges through the process of imagining herself as different, but potentially the same as, her sister.

Joseph M. Pierce is Assistant Professor in the Department of Hispanic Languages and Literature at Stony Brook University. His research focuses on discourses of kinship, gender, and sexuality in Latin America and on the intersection of Latin American and North American approaches to citizenship and belonging. He is currently drafting a book manuscript entitled Queer Kinship in the Argentine fin de siglo: La familia Bunge, and is co-editor with Fernando Blanco and Mario Pecheny of Derechos Sexuales en el Sur: Políticas del amor y escrituras disidentes (Forthcoming, Cuarto Propio).

Light refreshments will be served.