Events

UCSC Night at the Museum: The Kinsey African American Art & History Collection
May 18, 2016 @ 6:00 pm

| Santa Cruz Museum of Art and History

Free
Share
PODCAST:
EVENT PHOTOS:
by Steve Kurtz

If you have trouble viewing above images, you may view this album directly on Flickr.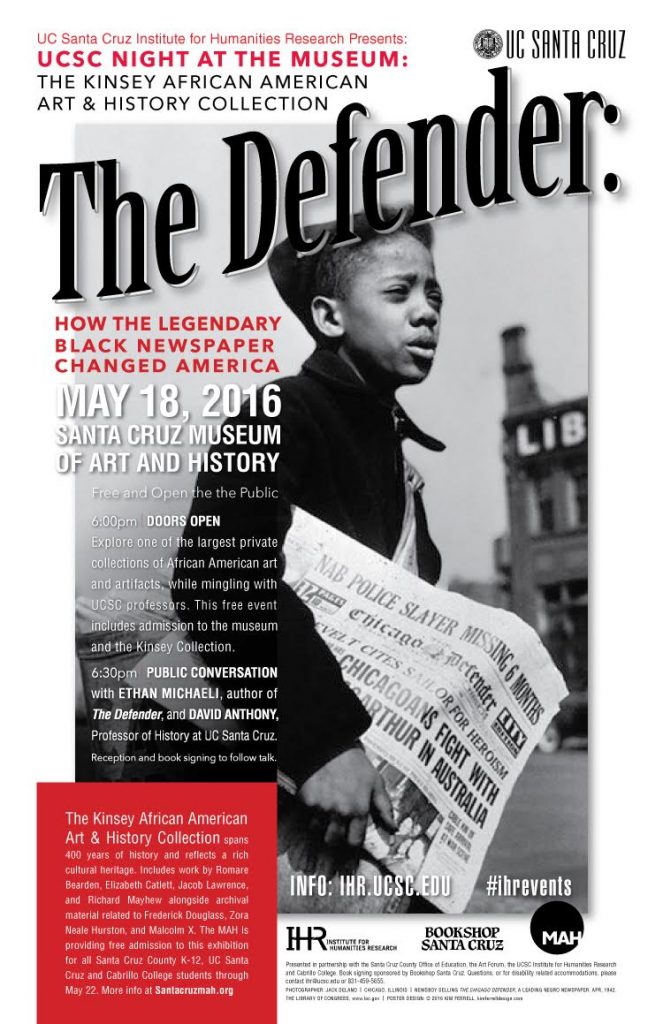 UC Santa Cruz Institute for Humanities Research Presents:
UCSC Night at the Museum: The Kinsey African American Art & History Collection
6:30pm | "The Defender: How the Legendary Black Newspaper Changed America"
Public conversation with Ethan Michaeli, author of The Defender, and David Anthony, Professor of History at UC Santa Cruz.
Reception and book signing to follow talk.
May 18, 2016
Santa Cruz Museum of Art and History (MAH)
705 Front Street, Santa Cruz, CA 95060
Please register for Free admission to the museum and the Kinsey Collection
Doors Open at 6pm
Explore one of the largest private collections of African American art and artifacts, while mixing and mingling with UCSC professors.
Parking
There are two parking garages located near the Museum. There is disability parking available in both parking garages.
Soquel/Front Garage: The Soquel/Front Parking Garage is located at the corner of Soquel Avenue and Front Street. The lot is paid hourly parking, seven days a week, except Thanksgiving Day, Christmas Day and New Year's Day. Keep your ticket with you, and pay at one of the Pay-on-Foot stations (located on the ground floor stair towers) or the cashier's office before returning to your vehicle.
River/Front Garage: The River/Front Garage is located between River and Front Streets next to the Galleria Office Complex. Permits are required for the second and third level and are limited to people who work or live downtown.
Questions, or for disability related accommodations, please contact ihr@ucsc.edu or 831-459-5655.
The Kinsey Collection at MAH:
February 26th, 2016 – May 22nd, 2016
Spanning 400 years of history, the Kinsey Collection reflects a rich cultural heritage. Includes work by Romare Bearden, Elizabeth Catlett, Jacob Lawrence, and Richard Mayhew alongside archival material related to Frederick Douglass, Zora Neale Hurston, and Malcolm X.
The MAH is providing free admission to this exhibition for all Santa Cruz County K-12 students, UCSC and Cabrillo College students. Just show your ID at the desk Feb 27-May 22, Tuesday-Sunday, 11-5, to get in for free. Note: Free Admission does not apply during Third Friday festivals.
Self-guided tour materials also available for school groups and visitors, click here to book a self-guided tour.
Presented in partnership with the Santa Cruz County Office of Education, the Art Forum, the UCSC Institute for Humanities Research and Cabrillo College.
For more information visit santacruzmah.org