Events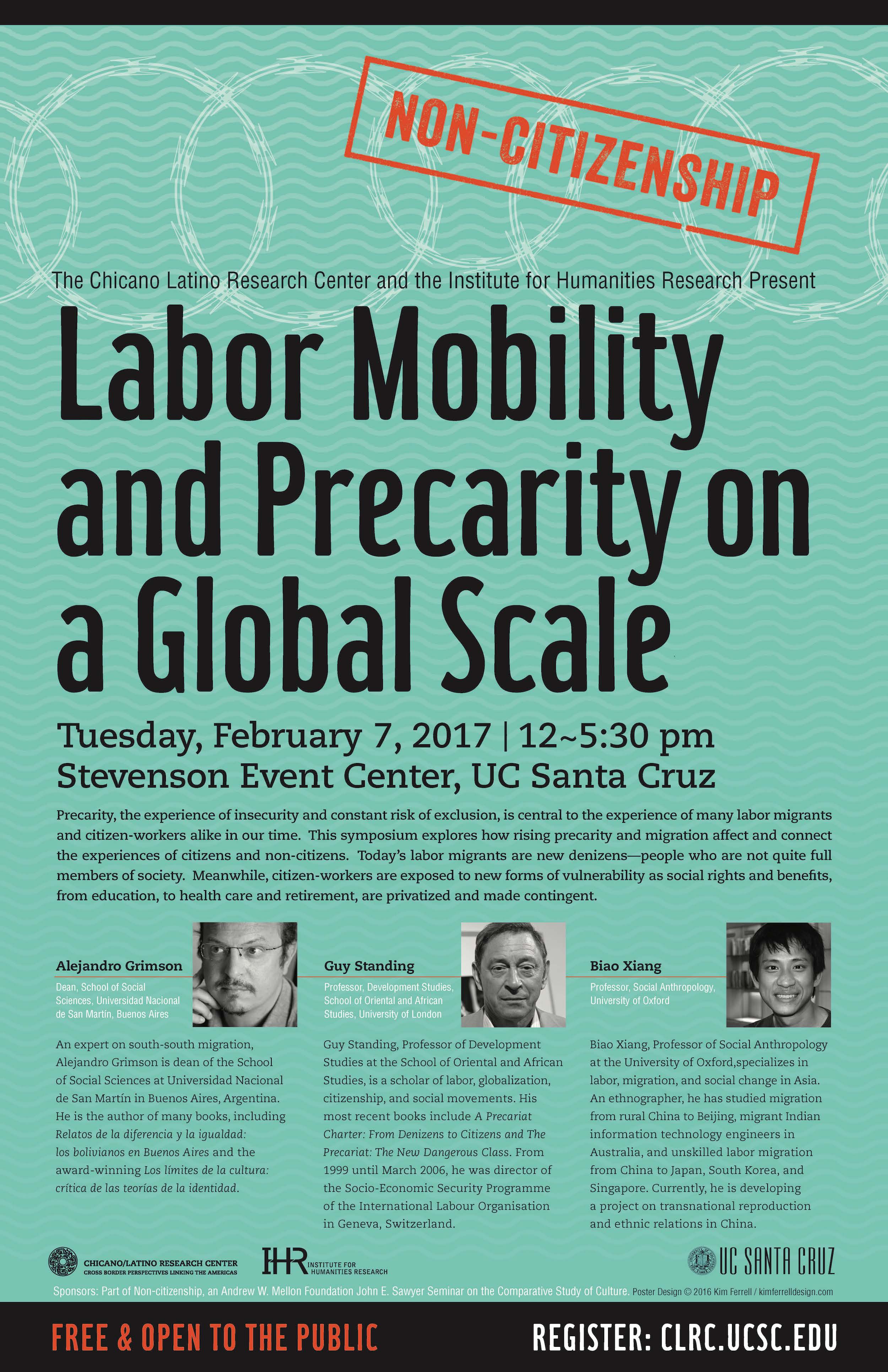 Labor Mobility and Precarity on a Global Scale: A Symposium with Guy Standing, Alejandro Grimson, and Biao Xiang (Non-citizenship Series)
February 7, 2017 @ 12:00 pm

-

5:30 pm

| Stevenson Event Center

Free
Share
Event Videos:

Labor Mobility and Precarity on a Global Scale: Guy Standing from IHR on Vimeo.
Labor Mobility and Precarity on a Global Scale: Alejandro Grimson 2.7.17 from IHR on Vimeo.
Labor Mobility and Precarity on a Global Scale: Biao Xiang from IHR on Vimeo.
Event Photos:

If you have trouble viewing above images, you may view this album directly on Flickr.
This symposium explores how global labor mobility and rising precarity affect and connect the experiences of citizens and non-citizens. Precarity, the experience of insecurity and constant risk of exclusion, is central to the experience of many labor migrants and citizen-workers in our time. Today's labor migrants are new denizens—residents or inhabitants who are not quite full members of society. They are incorporated into societies that desire their labor, but reject their very presence. Meanwhile, citizen-workers are exposed to new forms of vulnerability as social rights, such as education, health care, and retirement, are increasingly privatized, made contingent, or dissolved altogether. In such contexts, a majority of British voters demand Brexit and Donald Trump is elected president with the mandate to "make America great again."
To prepare for this symposium, Guy Standing, Alejandro Grimson, and Biao Xiang will take part in a seminar on labor mobility and precarity on Monday, February 6, 12:00-2:00, in Humanities 1, Room 210.
Please register here prior to attending the February 7th symposium.
Symposium Schedule:
12:00-12:20pm – Lunch
12:20-1:50pm – Guy Standing (School of Oriental & African Studies): "The Precariat: The New Denizens" + Q&A
1:50-2:05pm – Coffee break
2:05-3:35pm – Alejandro Grimson (Universidad Nacional de San Martín): "The Waste Product of Globalization's Party" + Q&A
3:35-3:50pm – Coffee break
3:50-5:20pm – Biao Xiang (University of Oxford): "The Other Precariat: Notes from Asia" + Q&A
Speakers:
Alejandro Grimson, an expert on south-south migration, is dean of the School of Social Sciences at Universidad Nacional de San Martín in Buenos Aires, Argentina. He is the author of many books, including Relatos de la diferencia y la igualdad: los bolivianos en Buenos Aires (Eudeba, 1999) and Los límites de la cultura: crítica de las teorías de la identidad (Siglo XXI Argentina, 2011), winner of the Latin American Studies Association's Premio Iberoamericano for best book of the year.
Juan Poblete is Professor of Literature and Co-principal Investigator of Non-citizenship, UC Santa Cruz's Andrew W. Mellon Foundation Sawyer Seminar. His broad and myriad research interests include nineteenth-century Latin American literature, nation and nationalism, and popular culture in the Americas. His most recent publications include Sports and Nationalism in Latin America (with Héctor Fernández L'Hoeste and Robert McKee-Irwin, Palgrave, 2015) and Humor in Latin American Cinema (with Juana Suárez, Palgrave, 2016).
Guy Standing, Professor of Development Studies at the School of Oriental and African Studies at the University of London, is a scholar of labor, globalization, citizenship, and social movements. His most recent books include A Precariat Charter: From Denizens to Citizens (Bloomsbury Academic Press, 2014) and The Precariat: The New Dangerous Class (Bloomsbury Academic Press, 2011). From 1999 until March 2006, he was director of the Socio-Economic Security Programme of the International Labour Organisation in Geneva, Switzerland.
Biao Xiang, Professor of Social Anthropology at the University of Oxford, specializes in labor, migration, and social change in Asia. An ethnographer, he has studied migration from rural China to Beijing, migrant Indian information technology engineers in Australia, and unskilled labor migration from China to Japan, South Korea, and Singapore. He is the author of The Intermediary Trap (Princeton University Press, forthcoming), Global Bodyshopping (Princeton University Press, 2007), Transcending Boundaries (Chinese edition by Sanlian Press, 2000; English edition by Brill Academic Publishers, 2005), and the co-editor of Return: Nationalizing Transnational Mobility in Asia(Duke University Press, 2013).
This symposium is co-sponsored by the Chicano Latino Research Center and Institute for Humanities Research, with generous support from the Andrew W. Mellon Foundation.