Events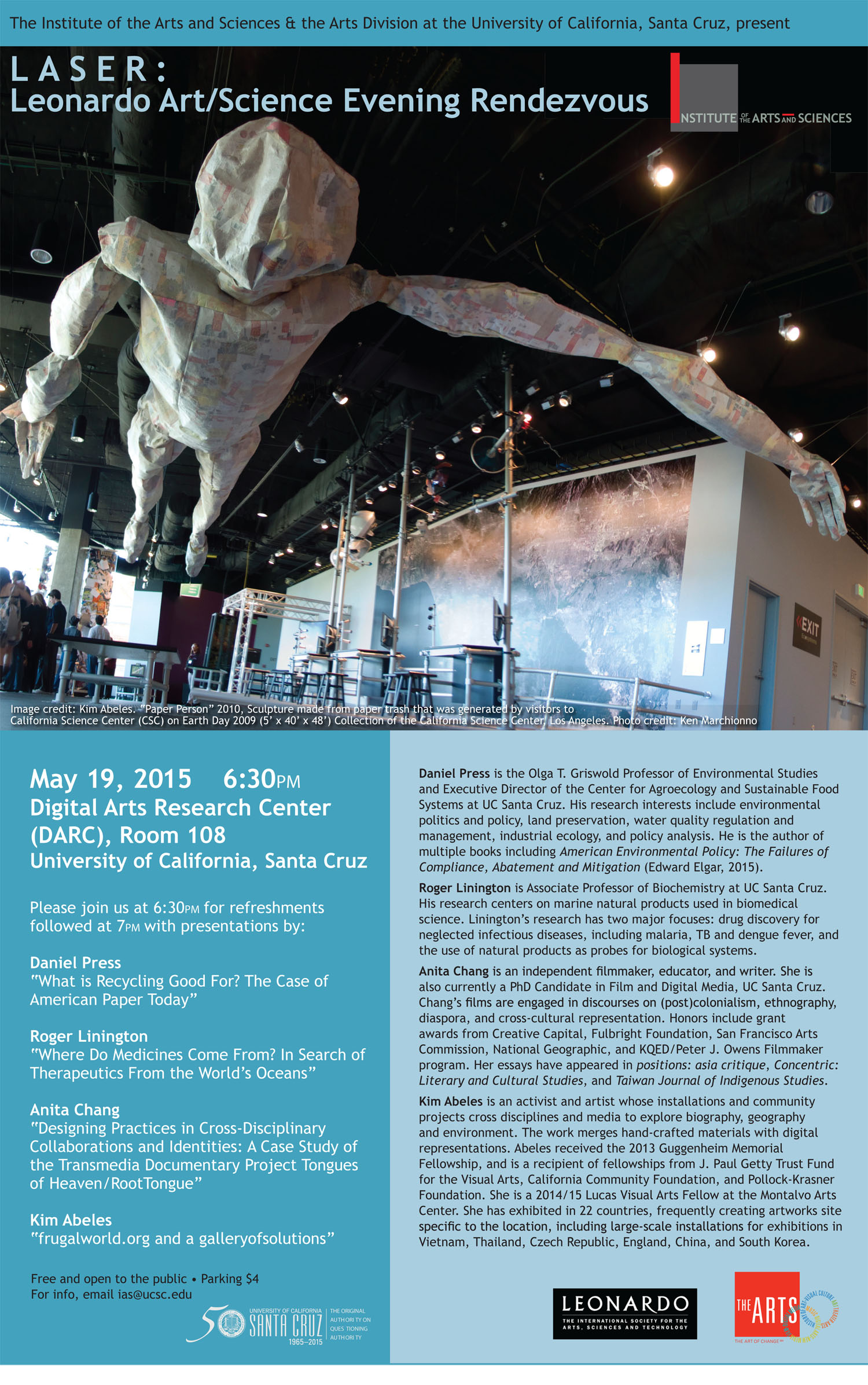 Last LASER (Leonardo Art/Science Evening Rendezvous) of the Year
May 19, 2015 @ 6:30 pm

-

8:00 pm

| Digital Arts Research Center (DARC) Dark Lab

Free
Share
The Institute of the Arts and Sciences invites you to final Leonardo Art/Science Evening Rendezvous (LASER) of the year on May 19 in the Digital Arts Research Center (DARC) 108. Join us for refreshments at 6:30 p.m. followed at 7 p.m. with presentations by:
• Daniel Press "What is Recycling Good For? The Case of American Paper Today"
• Roger Linington "Where Do Medicines Come From? In Search of Therapeutics From the World's Oceans"
• Anita Chang "Designing Practices in Cross-disciplinary Collaborations and Identities: A Case Study of the Transmedia Documentary Project Tongues of Heaven/RootTongue"
• Kim Abeles "frugalworld.org and a galleryofsolutions"

Bios:
Daniel Press is the Olga T. Griswold Professor of Environmental Studies and Executive Director of the Center for Agroecology and Sustainable Food Systems at UC Santa Cruz. His research interests include environmental politics and policy, land preservation, water quality regulation and management, industrial ecology, and policy analysis. He is the author of Democratic Dilemmas in the Age of Ecology: Trees and Toxics in the American West (Duke University Press, 1994), Saving Open Space: The Politics of Local Preservation in California (UC Press, 2002), and American Environmental Policy: The Failures of Compliance, Abatement and Mitigation (Edward Elgar, 2015).
Roger Linington is Associate Professor of Biochemistry at UC Santa Cruz. His research centers on marine natural products used in biomedical science. Linington's research has two major focuses: drug discovery for neglected infectious diseases including malaria, TB and dengue fever, and the use of natural products as probes for biological systems.
Anita Chang is an independent filmmaker, educator and writer. She is also currently a PhD Candidate in Film and Digital Media, UC Santa Cruz. Chang's films are engaged in discourses on (post)colonialism, ethnography, diaspora and cross-cultural representation. Chang has taught film in numerous community and academic settings in San Francisco, Nepal and Taiwan. Honors include grant awards from Creative Capital, Fulbright Foundation, San Francisco Arts Commission, National Geographic and KQED Peter J. Owens Filmmaker program. Her essays have appeared in positions: asia critique, Concentric: Literary and Cultural Studies and Taiwan Journal of Indigenous Studies.
Kim Abeles is an activist and artist whose installations and community projects cross disciplines and media to explore biography, geography and environment. The work merges hand-crafted materials with digital representations. Abeles received the 2013 Guggenheim Memorial Fellowship, and is a recipient of fellowships from J. Paul Getty Trust Fund for the Visual Arts, California Community Foundation and Pollock-Krasner Foundation. She is a 2014/15 Lucas Visual Arts Fellow at the Montalvo Arts Center. She has exhibited in 22 countries, frequently creating artworks site specific to the location, including large-scale installations for exhibitions in Vietnam, Thailand, Czech Republic, England, China, and South Korea.