Events

Living Writers: Giannina Braschi
October 7, 2021 @ 5:20 pm

-

6:55 pm

| Virtual Event
Share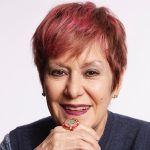 Giannina Braschi was born in San Juan, Puerto Rico. She was a fashion model, singer, and tennis champion in her teen years. She studied literature in Madrid, Rome, London, and Rouen before settling in New York City. With a Ph.D. in Hispanic Literatures from State University of New York, Stony Brook, she taught at Rutgers University, City University of New York, and Colgate University. She has published on Cervantes, Garcilaso, Machado, Lorca, and Bécquer. A Literature Fellow of the National Endowment for the Arts, Braschi has won awards/grants from Ford Foundation, Danforth Scholarship, New York Foundation for the Arts, Reed Foundation, InterAmericas, Instituto de Cultura Puertorriqueña, Rutgers, and PEN. PEN has called Braschi "one of the most revolutionary voices" in Latin American Literature today. Her work is a hybrid of poetry, fiction, theater, and political philosophy. Braschi has published numerous works in Spanish, Spanglish, and English, including El imperio de los sueños (Anthropos, 1988), Yo-Yo Boing! (Latin American Literary Review Press, 1998) and United States of Banana (AmazonCrossing, 2011). Her scholarly publications include a book on Gustavo Adolfo Bécquer and essays on Cervantes, Garcilaso, Machado, and García Lorca. Her collected poems were translated into English by Tess O'Dwyer as Empire of Dreams (Yale University Press, 1994). Her life's work is the subject of Poets, Philosophers, Lovers: on the Writings of Giannina Braschi (Latinx and Latin American Profiles, Pittsburgh, 2020), a collection of essays edited by Frederick Luis Aldama and Tess O'Dwyer with a foreword by Ilan Stavans. The United States Library of Congress calls her work "cutting-edge, influential and even revolutionary." In recent years, her avant-garde writings have appeared in far-ranging cultural spaces such as television comedy, chamber music, art and design, theater, and ecologic urbanism.

The World Beyond Us: A Living Writers Series – Taking advantage of our (hopefully) last virtual Living Writers this Fall, 2021, this series will be centered on writers working and living outside the United States, writers who look beyond the U.S. in their work, and writers who work in languages other than English. Due to the prohibitive cost of travel and lodging, many of these writers would have been difficult if not impossible to bring in person. Some writers will read with their translators, extending the conversation to the art of translation as well. Two of these translators are Literature Department professors and one a Literature Department graduate student, highlighting the creative translation work being done in our own department. The U.S. publishes very little work in translation, just 3% of the books published in the U.S. are translations, compared to other countries (50% of Italy's books are translations, for example). Thus, this series will expose students (as well as faculty and community members) to exciting writers, writing and translations they very likely are not familiar with.
This series will also include one night of California speculative writers, Claire Vaye Watkins and Cathy Thomas, who will read and talk about California Futures. This California Futures evening will be sponsored by The Humanities Institute Research Cluster Speculatively Scientific Fictions of the Future.