Events

Living Writers: Lesley Nneka Arimah
October 14, 2021 @ 5:20 pm

-

6:55 pm

| Virtual Event
Share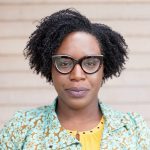 Lesley Nneka Arimah was born in the UK and grew up in Nigeria and wherever else her father was stationed for work. Her stories have been honored with a National Magazine Award, a Commonwealth Short Story Prize and an O. Henry Award. Her work has appeared in The New Yorker, Harper's, McSweeney's, GRANTA and has received support from The Elizabeth George Foundation and MacDowell. She was selected for the National Book Foundation's 5 Under 35 and her debut collection WHAT IT MEANS WHEN A MAN FALLS FROM THE SKY won the 2017 Kirkus Prize, the 2017 New York Public Library Young Lions Fiction Award and was selected for the New York Times/PBS book club among other honors. Arimah is a 2019 United States Artists Fellow in Writing. She lives in Las Vegas and is working on a novel about you.


The World Beyond Us: A Living Writers Series – Taking advantage of our (hopefully) last virtual Living Writers this Fall, 2021, this series will be centered on writers working and living outside the United States, writers who look beyond the U.S. in their work, and writers who work in languages other than English. Due to the prohibitive cost of travel and lodging, many of these writers would have been difficult if not impossible to bring in person. Some writers will read with their translators, extending the conversation to the art of translation as well. Two of these translators are Literature Department professors and one a Literature Department graduate student, highlighting the creative translation work being done in our own department. The U.S. publishes very little work in translation, just 3% of the books published in the U.S. are translations, compared to other countries (50% of Italy's books are translations, for example). Thus, this series will expose students (as well as faculty and community members) to exciting writers, writing and translations they very likely are not familiar with.
This series will also include one night of California speculative writers, Claire Vaye Watkins and Cathy Thomas, who will read and talk about California Futures. This California Futures evening will be sponsored by The Humanities Institute Research Cluster Speculatively Scientific Fictions of the Future.