Events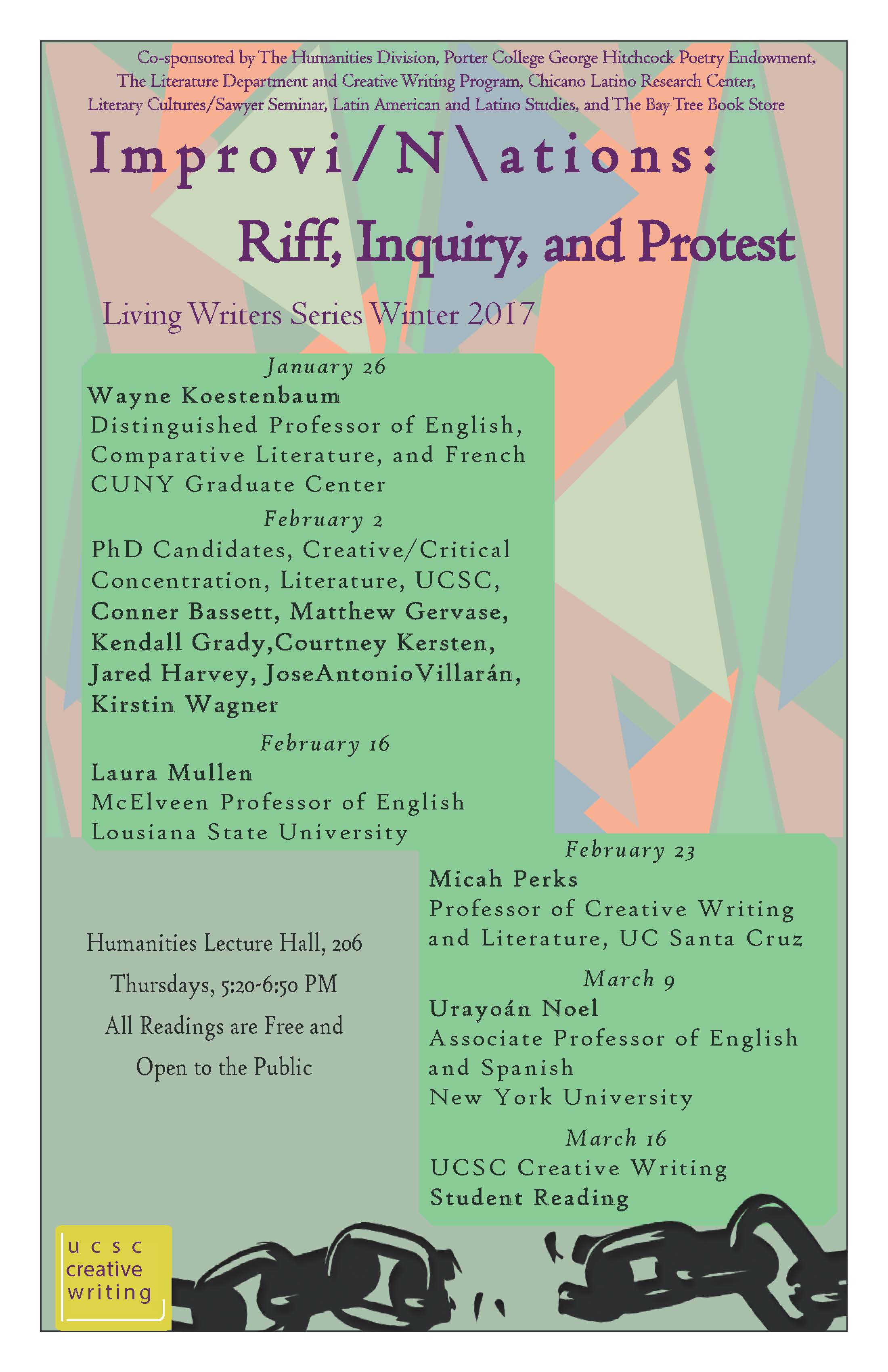 Living Writers: PhD Candidates, Creative/Critical Concentration
February 2, 2017 @ 5:20 pm

-

6:50 pm

| Humanities Lecture Hall, Room 206
Share
C Dylan Bassett's books are The Invention of Monsters / Plays for the Theater (2015) and A Failed Performance: The Collected Short Plays of Daniil Kharms (forthcoming 2018). His recent work appears in The American Reader, Black Warrior Review, Ninth Letter, and Washington Square. He lives in Santa Cruz.
Matthew Gervase is a Ph.D. candidate in Literature at UCSC, where he teaches creative writing and French courses. His published work has appeared in The French Translator's Quarter. As a writer he has certain formalist tendencies, one of which is to occasionally exist in the third person. He attempts to balance this out through his research on fascism, orality, and life in France's Third Republic.
Kendall Grady is a poet!scholar working the couplet as microsystem– contact zone– associative monad– elective affinity– allocentrism– affective capillary– baroque structure of intimacy. Selected poems livewith Jupiter 88, Dusie, and The Atlas Review.
Courtney Kersten's essays can be seen or are forthcoming from River Teeth, Hotel Amerika, Hayden's Ferry Review, DIAGRAM, The Sonora Review, Black Warrior Review, The Master's Review and elsewhere. She was the 2016 writer-in-residence at the Great Basin Writer's Residency and was a Fulbright Fellow in Riga, Latvia where she researched nonfictional theater and literature. She is currently a PhD student in Literature, Creative Writing, and Feminist Studies at the University of California, Santa Cruz.
Jared Joseph is a recent graduate of the Iowa Writers' Workshop, and is currently pursuing his PhD in Literature at the University of California – Santa Cruz. Recent poems have been published in Fence, Noo Journal, and Company. Jared Joseph and Sara Peck's collaborative book here you are is available from Horse Less Press, while Drowsy. Drowsy Baby is forthcoming from Entropy Press in 2017
Jose Antonio akterial, 2012). In 2008 he created the AMLT project (www.amltproject.com), which seeks to explore hypertext literature and alternative media forwriting through collective authorship. The project was sponsored by Puma from 2011-2014. His third book, titled "open pit", is forthcoming from AUB in 2016. He holds an MFA in Writing from the University of California in San Diego.
Kirstin Wagner is a writer and teacher living in Santa Cruz, CA. Her creative work is published/forthcoming in Bombay Gin Literary Journal, Gesture Literary Journal, and Something on Paper. She has taught creativewriting at Naropa University, Indiana University, U.C. Santa Cruz, and in the Boulder public school system.  She is currently a PhD student in the Literature Department at UC-Santa Cruz.
Living Writers Series Winter 2017

Improvi/N\ations: Riff, Inquiry, and Protest
Improvi/N\ations: Riff, Inquiry, and Protest will feature writers and artists who work and play across various disciplines and modes: poetry, prose, visual, sound, performance, art, and theory to address questions of race, gender, sexuality, and other identities. This series will explore the intersections of self-and-nationhood as fracture, memory and possibility via individual, collective and internal forms.
Humanities Lecture Hall, 206
Thursdays, 5:20-6:50 PM
All Readings are Free and Open to the Public
January 26: Wayne Koestenbaum, Distinguished Professor of English, Comparative Literature, and French, CUNY Graduate Center
February 2: Conner Bassett, Matthew Gervase, Kendall Grady, Courtney Kersten, Jared Harvey, Jose Antonio Villarán, Kirstin Wagner, PhD Candidates, Creative/Critical Concentration, Literature, UC Santa Cruz
February 16: Laura Mullen, McElveen Professor of English, Lousiana State University
February 23: Micah Perks, Professor of Creative Writing and Literature, UC Santa Cruz
March 9: Urayoán Noel, Associate Professor of English and Spanish, New York University
March 16: UCSC Creative Writing Program, Undergraduate Student Reading
Co-sponsored by The Humanities Division, Porter College George Hitchcock Poetry Endowment, The Literature Department and Creative Writing Program, Chicano Latino Research Center, Literary Cultures/Sawyer Seminar, Latin American and Latino Studies, and The Bay Tree Book Store