Events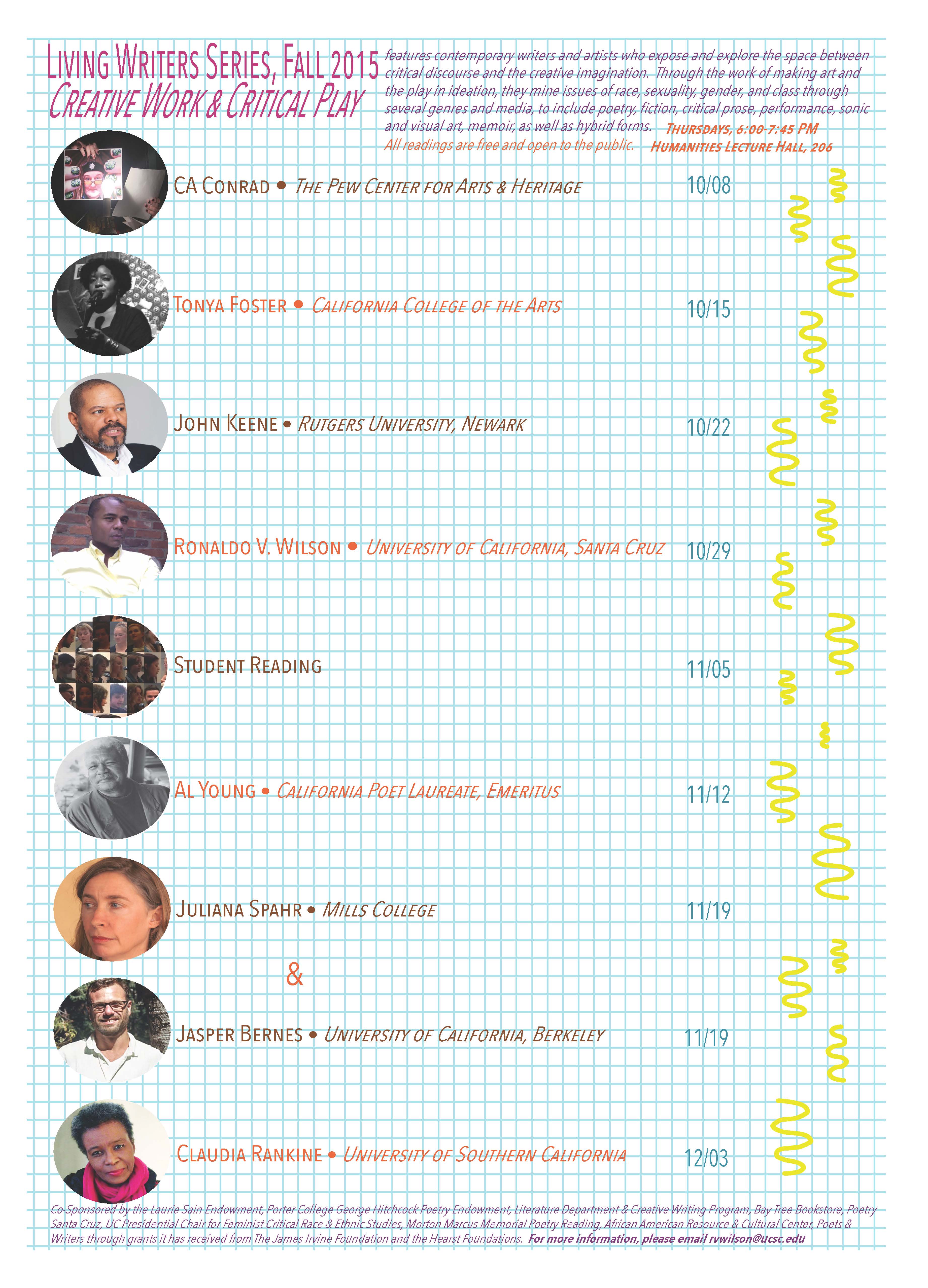 Living Writers: Juliana Spahr & Jasper Bernes
November 19, 2015 @ 6:00 pm

-

7:45 pm

| Humanities Lecture Hall, Room 206

Free
Share
Juliana Spahr edits the book series Chain Links with Jena Osman and the collectively funded Subpress with nineteen other people and Commune Editions with Joshua Clover and Jasper Bernes. With David Buuck she wrote Army of Lovers. She has edited with Stephanie Young A Megaphone: Some Enactments, Some Numbers, and Some Essays about the Continued Usefulness of Crotchless-pants-and-a-machine-gun Feminism (Chain Links, 2011), with Joan Retallack Poetry & Pedagogy: the Challenge of the Contemporary(Palgrave, 2006), and with Claudia Rankine American Women Poets in the 21st Century(Wesleyan U P, 2002). With Joshua Clover, she has twice organized somewhat free schools, the 95 cent Skool (summer of 2010) and the Durruti Free Skool (summer of 2011), written on politics, on manifestos, applied for a job at the Poetry Foundation, and organized, with Chris Chen too, the conference Poetry and/or Revolution.
Jasper Bernes
University of California, Berkeley
Jasper Bernes is the author of two books of poetry, We Are Nothing and So Can You (2015) and Starsdown (2007). He is currently completing a book of literary history, Poetry in the Age of Deindustrialization, about the role poetry and art played in the postindustrial restructuring of labour. With Joshua Clover and Juliana Spahr, he edits Commune Editions.
---
Fall 2015 Living Writers Series:
Creative Work & Critical Play
Thursdays, 6:00-7:45 PM
Humanities Lecture Hall, 206
Creative Work & Critical Play features contemporary writers and artists who expose and explore the space between critical discourse and the creative imagination. Through the work of making art and the play in ideation, they mine issues of race, sexuality, gender, and class through several genres and media, to include poetry, fiction, critical prose, performance, sonic and visual art, memoir, as well as hybrid forms.
October 8: CA Conrad: The Pew Center for Arts & Heritage
October 15: Tonya Foster: California College of the Arts
October 22: John Keene: Rutgers University, Newark
October 29: Ronaldo V. Wilson: University of California, Santa Cruz
November 5: Student Reading
November 12: Al Young: California Poet Laureate, Emeritus
November 19: Juliana Spahr: Mills College & Jasper Bernes: University of California, Berkeley
December 3: Claudia Rankine: University of Southern California