Events

Maitra Memorial Lecture / Foundation Medal with Janet Yellen
February 2, 2019 @ 6:30 pm

-

10:00 pm

|
Share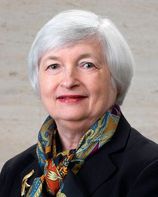 Join us as we present the Foundation Medal to Janet Yellen, distinguished fellow of Brookings Institution and former chair of the Federal Reserve. UC Santa Cruz is proudly recognizing influential women leaders as we champion diversity in all areas of human endeavor.

When Janet Yellen took office in 2014, she became the first woman to head the Federal Reserve. Previously, she served as vice chair of the Federal Reserve, CEO and president of the Federal Reserve Bank of San Francisco, chair of the White House Council of Economic Advisors under President Bill Clinton, and professor at the Haas School of Business atUC Berkeley.
She is noted for her patient, measured, and accessible explanations of monetary policy while being a thoughtful leader of the Federal Reserve. In her public appearances, she has addresses topics broader than monetary policy, including labor markets, unemployment, and poverty. She was considered by some to be the most powerful woman in America.
Presented in partnership with the Sidhartha Maitra Memorial Lecture.
Program will be followed by a dessert reception
The UC Santa Cruz Foundation Medal recognizes individuals of exceptionally distinguished achievement whose work and contribution to society exemplify the vision and ideals of UC Santa Cruz.
Presented in partnership with the Sidhartha Maitra Memorial Lecture Series
The Maitra Lecture Series was established by UC Santa Cruz Foundation Trustee Anuradha Luther Maitra in memory of her husband, Sidhartha—a scientist, entrepreneur, and admirer of humanist, rationalist, modernist thinkers. The lecture is a signature campus gathering, and integral to the intellectual life of the campus.