Events

NEH Funders Panel
March 24 @ 11:00 am

-

12:30 pm

| Virtual Event
Share
To watch this Zoom recording of this virtual discussion with Senior Program Officers from the National Endowment for the Humanities, please email Caitlin Charos.
Featuring:
Jill Austin is a senior program officer in the Division of Public Programs at NEH. She arrived at NEH in 2015 after two decades of work in museums and nonprofits that serve museums. Prior to her role at NEH, Austin was a curator at the Chicago History Museum for ten years. Her last exhibition, The Secret Lives of Objects, featured objects boasting mysterious pasts from the permanent collection and opened in 2015. Another major exhibition, Out in Chicago: LGBT History at the Crossroads, opened in 2011 and was the result of a three-year curatorial collaboration with historian Jennifer Brier of the University of Illinois, Chicago. They also co-edited and contributed to an accompanying anthology of essays of the same title on Chicago LGBT and queer history. With Brier, she also contributed a chapter to Susan Ferentinos' anthology Interpreting LGBT History at Museums and Historic Sites. Previously, Austin served as a curator at Detroit Historical Museums and was an exhibition and publication coordinator at Exhibitions International, a New York-based traveling exhibitions firm that specialized in design and the decorative arts. She got her start in the museum field as an educator at the Carnegie Museum of Art, Pittsburgh. A native of southeast Michigan, she earned a BA in history/classics from Eastern Michigan University, and received an MA in the history of art and architecture from the University of Pittsburgh.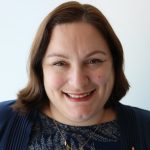 Julia Huston Nguyen is a Senior Program Officer in the Division of Education Programs. She earned an undergraduate degree in history and German studies from Mount Holyoke College and a Ph.D. in history from Louisiana State University. Julia's graduate training focused on the pre-Civil War American South, with emphasis on the Lower Mississippi River Valley. She has published numerous articles on education, domestic service, and religion in antebellum and Civil War-era Mississippi and Louisiana. She came to the Endowment in 2004 from Texas A&M University-Corpus Christi, where she was an assistant professor of history, and she has also taught at Louisiana State University and River Parishes Community College. In the Division of Education Programs, Julia works with all of the division's programs and serves at the program lead for Humanities Initiatives at Community Colleges, Hispanic-Serving Institutions, Historically Black Colleges and Universities, and Tribal Colleges and Universities.