Events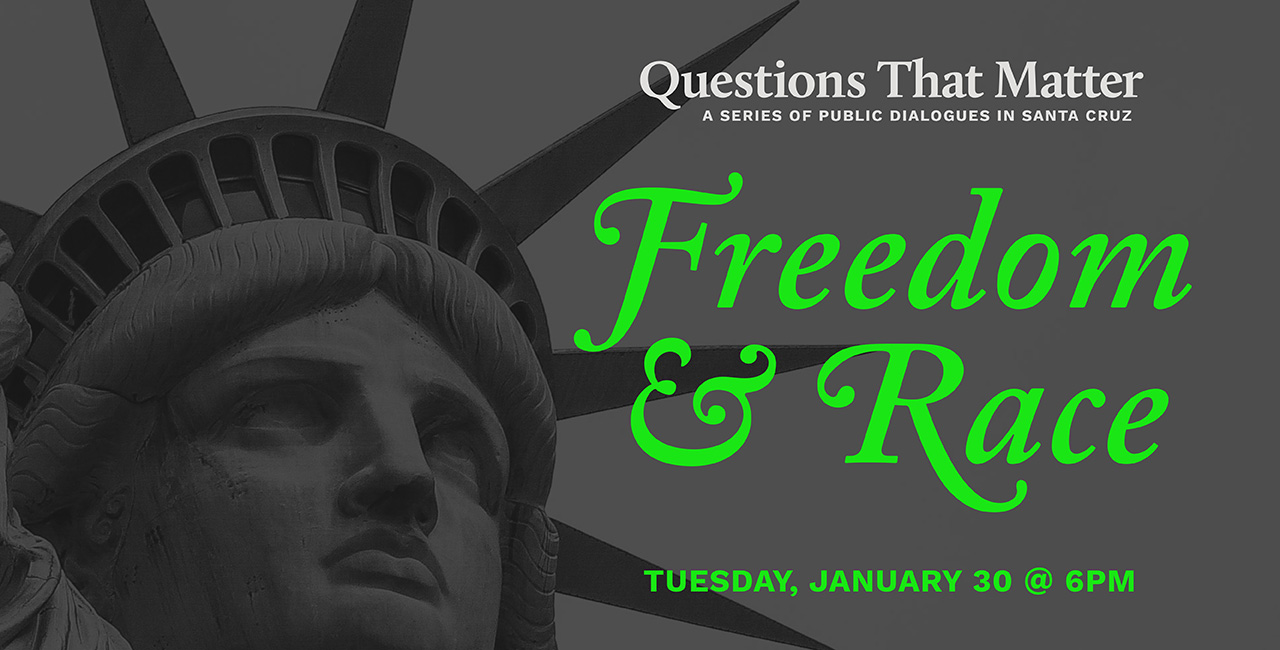 Questions That Matter:"Freedom and Race"
January 30, 2018 @ 6:00 pm

-

8:30 pm

| Kuumbwa Jazz Center

$15
Share
America has famously been called "the land of the free," and yet when the "Star Spangled Banner" was written, people of African descent were enslaved within its borders, including by the song's own author, Francis Scott Key. Today, the relationship between freedom and race continues to vex the United States and the rest of the world. Join us for a frank and thoughtful discussion of this question that matters.
Featuring:
Jennifer González is a Professor of History of Art and Visual Culture at UCSC. She writes about contemporary art with an emphasis on installation art, digital art and activist art. She is interested in understanding the strategic use of space (exhibition space, public space, virtual space) by contemporary artists and by cultural institutions such as museums. More specifically, she has focused on the representation of the human body and its relation to discourses of race and gender.
Tyler Stovall is a Distinguished Professor of History and Dean of Humanities at UCSC, as well as the current President of the American Historical Association. His work centers on questions of race and class, blackness, postcolonial history, and transnational history as applied to modern and twentieth century France, and covers a wide range of topics from the Paris suburbs to black American expatriates in France to the French Caribbean.
Moderated by:
Nathaniel Deutsch
Director of The Humanities Institute
Questions that Matter "Freedom and Race" from IHR on Vimeo.
TUESDAY, JANUARY 30, 2018
Kuumbwa Jazz Center – Directions and Parking Details 
$15 Ticket
6pm – Wine and hors d'oeuvres reception
7pm – Program
If you have disability-related needs, please contact The Humanities Institute at thi@ucsc.edu or call 831-459-1274.
Questions That Matter: A Series of Public Dialogues in Santa Cruz
A public humanities series developed by The Humanities Institute at UC Santa Cruz and the community of Santa Cruz – bringing together two or more UC Santa Cruz scholars with community residents and students to explore questions that matter to all of us. The series is a part of a strategic initiative of the Institute to champion the role and value of the humanities in contemporary life. At the University of California Santa Cruz, we understand that the humanities are a crucial element of any first-rate liberal arts education. Indeed, what distinguishes the best universities in the United States is the fact that the humanities are an integral part of their core curriculum, along with the arts and sciences. The series is designed as a lecture and conversation, with plenty of time built in for participant questions and answers. We invite you to join us on January 30, 2018 at the Kuumbwa Jazz Center for "Freedom and Race."