Events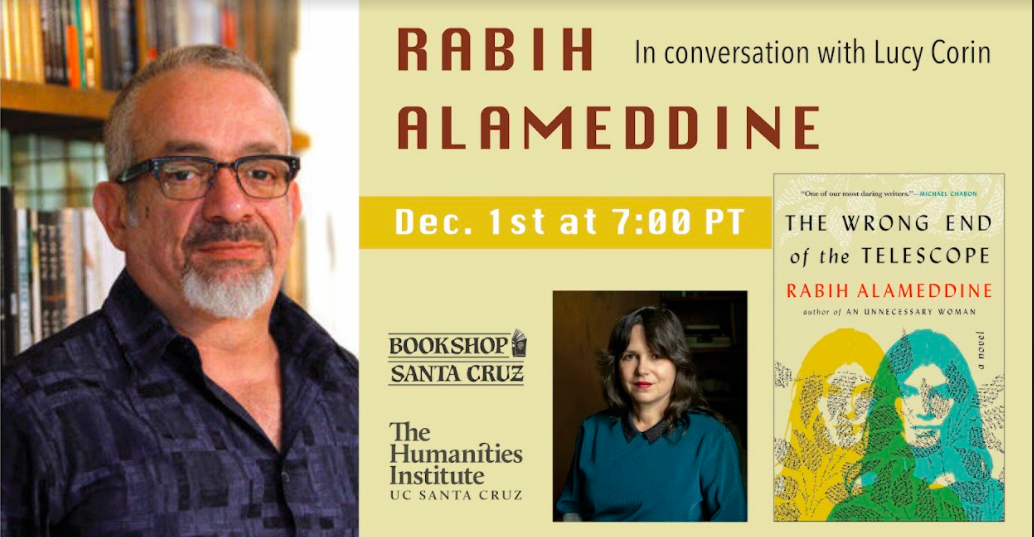 Rabih Alameddine – The Wrong End of the Telescope
December 1, 2021 @ 7:00 pm

-

8:30 pm

| Virtual Event
Share
The Wrong End of the Telescope is a "shape-shifting kaleidoscope, a collection of moments—funny, devastating, absurd—that bear witness to the violence of war and displacement without sensationalizing it…The Wrong End of the Telescope is a gorgeously written, darkly funny and refreshingly queer witness to that seeking." —BookPage
Mina Simpson, a Lebanese doctor, arrives at the infamous Moria refugee camp on Lesbos, Greece, after being urgently summoned for help by her friend who runs an NGO there. Alienated from her family except for her beloved brother, Mina has avoided being so close to her homeland for decades. But with a week off work and apart from her wife of thirty years, Mina hopes to accomplish something meaningful, among the abundance of Western volunteers who pose for selfies with beached dinghies and the camp's children. Not since the inimitable Aaliya of An Unnecessary Woman has Rabih Alameddine conjured such a winsome heroine to lead us to one of the most wrenching conflicts of our time. Cunningly weaving in stories of other refugees into Mina's singular own, The Wrong End of the Telescope is a bedazzling tapestry of both tragic and amusing portraits of indomitable spirits facing a humanitarian crisis.
RABIH ALAMEDDINE is the author of the novels The Angel of History; An Unnecessary Woman; The Hakawati; I, the Divine; Koolaids; and the story collection, The Perv. In 2019, he won the Dos Passos Prize.
The Swank Hotel is an acrobatic, unforgettable, surreal, and unexpectedly comic novel that interrogates the illusory dream of stability that pervaded early twenty-first-century America.
At the outset of the 2008 financial crisis, Em has a dependable, dull marketing job generating reports of vague utility while she anxiously waits to hear news of her sister, Ad, who has gone missing—again. Em's days pass drifting back and forth between her respectably cute starter house (bought with a "responsible, salary-backed, fixed-rate mortgage") and her dreary office. Then something unthinkable, something impossible, happens and she begins to see how madness permeates everything around her while the mundane spaces she inhabits are transformed, through Lucy Corin's idiosyncratic magic, into shimmering sites of the uncanny.
LUCY CORIN is the author of The Swank Hotel, One Hundred Apocalypses and Other Apocalypses, and two other books of fiction. She is the recipient of an American Academy of Arts and Letters Rome Prize and an NEA Literature Fellowship. She lives in Berkeley, California.

FREE VIRTUAL EVENT: Award winning author Rabih Alameddine (An Unnecessary Woman) and acclaimed writer Lucy Corin will read from and discuss their new work: Corin's The Swank Hotel and Alameddine's The Wrong End of the Telescope.
The featured books can be purchased on the Bookshop Santa Cruz event page.