Events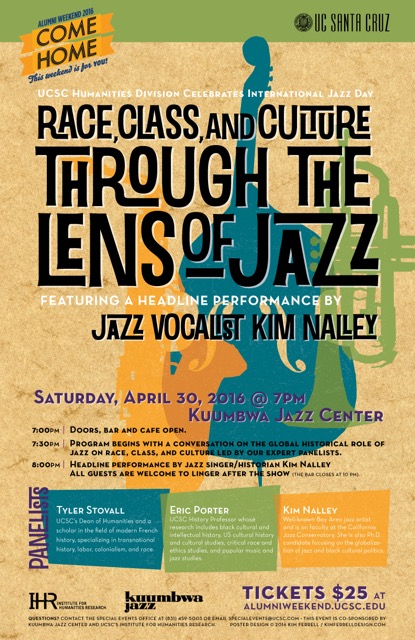 Race, Class & Culture through the Lens of Jazz
April 30, 2016 @ 7:00 pm

-

9:00 pm

| Kuumbwa Jazz Center

$25
Share
EVENT PHOTOS:

If you have trouble viewing above images, you may view this album directly on Flickr.
Kuumbwa Jazz Center and the UC Santa Cruz Institute for Humanities Research present:
Race, Class & Culture through the Lens of Jazz
Featuring a headline performance by jazz vocalist Kim Nalley, UC Santa Cruz Humanities is celebrating International Jazz Day 2016! In the spirit of UNESCO's International Jazz Day and in collaboration with the Kuumbwa Jazz center downtown, come join us and help celebrate. Enjoy refreshments and reconnect with your fellow alumni in the spirit of International Jazz Day. The program will begin with a fascinating conversation on the global historical role of jazz on race, class, and culture led by our expert panelists, including Humanities Dean Tyler Stovall, History Professor Eric Porter and jazz singer/historian Kim Nalley. Stick around to enjoy the fun as Nalley switches from historian to jazz and blues vocalist for the evening's featured performance. All guests are welcome to linger after the show.

$25 tickets are available through the UCSC Alumni Weekend website

Panelists
Tyler Stovall is Dean of Humanities at UC Santa Cruz and is the author of several books and numerous articles in the field of modern French history, specializing in transnational history, labor, colonialism, and race.
Eric Porter is a History Professor at UC Santa Cruz. His research includes black cultural and intellectual history, US cultural history and cultural studies, critical race and ethics studies, and popular music and jazz studies.
Kim Nalley is a well-known Bay Area jazz artist and is on faculty at the California Jazz Conservatory. She is also Ph.D. candidate focusing on the globalization of jazz and black cultural politics.
Saturday, April 30, 2016 at 7:00pm
Kuumbwa Jazz Center
7:00pm – Doors, bar and cafe open
7:30pm – Program begins at with conversation on the global historical role of jazz on race, class, and culture led by our expert panelists
8:00pm – Headline performance by jazz singer/historian Kim Nalley