Events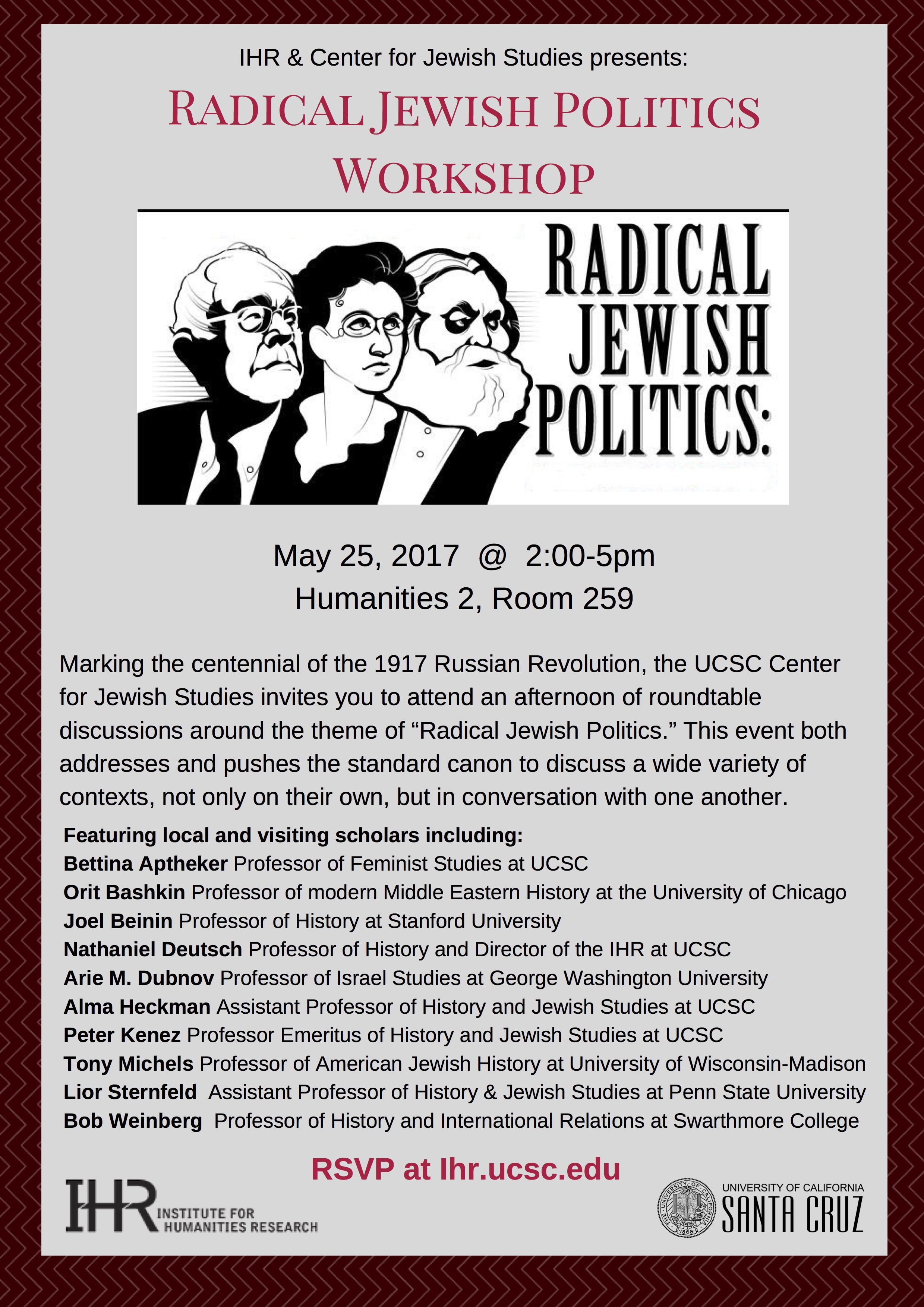 Radical Jewish Politics Workshop
May 25, 2017 @ 2:00 pm

-

5:00 pm

| Humanities 2, Room 259
Share
Marking the centennial of the 1917 Russian Revolution, the UCSC Center for Jewish Studies invites you to attend an afternoon of roundtable discussions around the theme of "Radical Jewish Politics." This event both addresses and pushes the standard canon to discuss a wide variety of contexts, not only on their own, but in conversation with one another. Geographically, these contexts include Iran, Iraq, Israel and Palestine, Egypt, Russia, Hungary, Egypt, Morocco, and the United States of America. Thematically, these contexts include Queer Jewish histories within the left, the contemporary Orthodox populations of New York City and reactionary politics, interactions with Zionism and other nationalisms, historiography and state memory, and much more.
2:00-5:00pm
Afternoon Roundtable 1: Thematic conversation 1 (including approximately 3-4 panelists)
Afternoon Roundtable 2: Thematic conversation 2 (including approximately 3-4 panelists)
Concluding remarks
Dinner
RSVP required – Please register for the event here
Co-sponsored by the Center for Jewish Studies, History Department, Center for Cultural Studies, and Institute for Humanities Research.
Scholar Bios:
Bettina Aptheker is Distinguished Professor of Feminist Studies at UCSC, and is the holder of the UC Presidential Baskin Foundation Endowed Chair in Feminist Studies. She is affiliated faculty in Jewish Studies, and in Critical Race & Ethnic Studies. Her most recent research has been a project on queering the history of the Communist Left in the United States. Her most recent book is a memoir, Intimate Politics: How I Grew Up Red, Fought for Free Speech and Became a Feminist Rebel. A scholar-activist she was featured in the film Free Angela! and all political prisoners, (2013). She also does work in Black feminist History, and recently published a scholarly piece, "The Pageantry of Shirley Graham's Opera Tom-Tom" published in the journal Souls, Fall 2016.
Orit Bashkin is a historian who works on the intellectual, social and cultural history of the modern Middle East. She received her Ph.D. from Princeton University (2004), writing a thesis on Iraqi intellectual history under the supervision of Professors Robert Tignor and Samah Selim, and her BA (1995) and MA (1999) from Tel Aviv University. Since graduation, she has been working as a professor of modern Middle Eastern history in the Department of Near Eastern Languages and Civilizations at the University of Chicago. Her publications deal with Iraqi history, the history of Iraqi Jews, the Arab cultural revival movement (the nahda) in the late 19th century, and the connections between modern Arab history and Arabic literature.  Her current research project explores the lives of Iraqi Jews in Israel. Her books (published by Stanford University Press are): The Other Iraq, Pluralism and Culture and Hashemite Iraq, New Babylonians, A history of Iraqi Jews, and Impossible Exodus, Iraqi Jews in Israel. At the University of Chicago, she teaches classes on nationalism, colonialism and postcolonialism in the Middle East, on modern Islamic civilization, and on Israeli history.
Joel Beinin is the Donald J. McLachlan Professor of History and Professor of Middle East History at Stanford University. He received his Ph.D. from the University of Michigan in 1982 before coming to Stanford in 1983. Beinin's research and writing focus on the social and cultural history and political economy of modern Egypt, Palestine, and Israel and on US policy in the Middle East.
Arie M. Dubnov is the inaugural Max Ticktin Chair of Israel Studies at George Washington University. His fields of expertise are modern Jewish and European intellectual history, with emphasis on the history of political thought and nationalism studies. His current research examines the relationship and exchange of ideas between pre-1948 Zionist activists and British political thinkers. It seeks to place Jewish nationalism within the context of interwar neo-imperial thinking, acknowledging a wide spectrum of intra-Zionist ideas ranging from pro-imperial, federalist thinking to radical anti-colonial notions of struggle.
Peter Kenez is Professor emeritus of history at UC Santa Cruz. He was one of the founding members of Stevenson College andhas taught and published widely on the history of the Soviet Union and related geopolitical questions.
Lior Sternfeld is an Assistant Professor of History and Jewish Studies at Penn State University. He is a social historian of the modern Middle East with particular interests in Jewish (and other minorities') histories of the region. Sternfeld's first book manuscript tentatively titled: "Integrated After All: Iranian Jews in the Twentieth Century," which examines the integration of the Jewish communities in Iran into the nation-building projects of the twentieth century, is now under review. This book examines the development of the Iranian Jewish communities vis-à-vis ideologies and institutions such as Iranian nationalism, Zionism, and constitutionalism, among others. His current research project examines the origins of "third-worldism" in the Middle East.
Bob Weinberg  is Isaac H. Clothier Professor of History and International Relations at Swarthmore College. He teaches Russian and European history and has published on the 1905 Revolution in Odessa, anti-Jewish pogroms, blood libel, antisemitism in Imperial Russia and the Soviet Union, and Birobidzhan