Events

Tarek El-Ariss – The Fallen Note: A Journey to the Birthplace of the Image
March 1 @ 12:00 pm

-

1:30 pm

| Humanities 1, Room 210
Share
The Fallen Note: A Journey to the Birthplace of the Image – As I was moving to a new office in October 2020, a note fell off from one of my theory books— Derrida's Specter of Marx. The note was an old photocopy with the ink somewhat faded. A ghostly shadow is captured in the image, blurring the top part of the page but leaving the paragraph intact. One can surmise that the copy was taken in haste, in a doctor's office in the late '90s, somewhere in Upstate NY. It was a photocopy of a page in the Diagnostic and Statistical Manual of Mental Disorders (DSM) describing a condition wherein patients experience parasites or insects infesting their surroundings and crawling on their skin. Patients collect what they believe to be evidence of their infestation and bring it to the doctor in search of a cure. Where did this note come from? How did it find its way to that book in particular? And was its revelation during an office move at the height of Covid an accident, a coincidence, or a message from another time and place and experience? In this talk, I investigate the provenance of this note, embarking on a journey that leads me to the birthplace of the image and photocopying technology with companies such as Xerox and Kodak in Upstate NY. It also leads me to confront the ghosts and monsters of the Lebanese Civil War (1975-90) that crawl into suitcases and possess tightly packed books and items of clothing as they cross oceans and go up rivers and canals. In the process, I reflect on hauntology and theory more generally, questioning its potential as a system of meaning that can access the past and reveal the hidden.
Tarek El-Ariss is an author, a scholar, and the James Wright Professor at Dartmouth College where he teaches Middle Eastern Studies and Comparative Literature. Born and raised in Beirut during the Civil War (1975-1990) and trained in philosophy, literary theory, and visual and cultural studies, his work deals with questions of displacement, modernity, and the somatic in literature and culture. He has written about disoriented travelers, outcasts, queers, hackers, and characters with complicated relations to home, tribe, nation, and power. He is the author of Trials of Arab Modernity: Literary Affects and the New Political (Fordham, 2013) and Leaks, Hacks, and Scandals: Arab Culture in the Digital Age (Princeton, 2019), and editor of The Arab Renaissance: A Bilingual Anthology of the Nahda (MLA, 2018). In 2021, he received a Guggenheim Fellowship to complete a forthcoming book entitled, "Homo Belum: An Autobiography of War."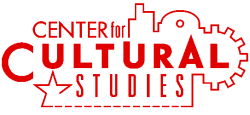 The Center for Cultural Studies hosts a weekly Wednesday colloquium featuring work by faculty and visitors. We gather at 12:00 PM, with presentations beginning at 12:15 PM.
Staff assistance is provided by The Humanities Institute.
This event is co-sponsored by the Arabic Colloquium at The Humanities Institute, funded by the UC Humanities Network, and co-sponsored by the Center for Middle East and North Africa.