Events

The Maghrib Workshop: "Sovereignty, Crisis, and Narratives of Belonging Part II"
March 23, 2019 @ 9:00 am

-

6:00 pm

| Humanities 1, Room 210
Share
If you have trouble viewing above images, you may view this album directly on Flickr.
The Maghrib Workshop: "Sovereignty, Crisis, and Narratives of Belonging Part II" Program: 
UCSC Humanities 1, Room 210
Morning
8:30 – Transportation from Hotel to Humanities 1 by carpool.
9:00 – Coffee and Introduction
9:15 – Samia Errazouki (UC Davis, History) "Morocco's Bloody 'Golden Age': Race, Slavery, and Capitalism in the 16th Century African Atlantic"
10:30 – Olivia C. Harrison (USC, French and Italian and Comparative Literature) "Palestine and the Migrant Question"
11:45 – Thomas Serres (UCSC, Politics) "Of Democracies in Algeria: Elections and Popular Agonism (2011-2019)"
1:00 – Lunch
Afternoon
2:00 – Rachel Colwell (UC Berkeley, Music and Literature) "Tunis al-Maḥrūsa: Tunis the Well-Protected" in "al-Makān: Listening for Place"3:15 – Break
3:30 – Jessica Marglin (USC, Religion) "Rights, Nationality, and Belonging in a Transnational Context: Léon Elmilik and the Jews of Tunisia, 1861-1881"
4:45 – Concluding Remarks
6:00 – Dinner at Cowell Provost's House
Speaker Bios: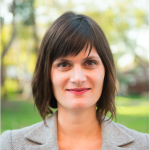 Olivia C. Harrison: "Palestine and the Migrant Question"
Olivia C. Harrison is Associate Professor of French and Comparative Literature at the University of Southern California. She is the author of Transcolonial Maghreb: Imagining Palestine in the Era of Decolonization (Stanford 2016) and co-editor of Souffles-Anfas: A Critical Anthology from the Moroccan Journal of Culture and Politics (Stanford 2016). Her manuscript-in-progress, Banlieue Palestine: Indigenous Critique in Postcolonial France, charts the emergence of the Palestinian question in France, from the anti-racist movements of the late 1960s to contemporary art and activism. She is currently researching the recuperation of minority discourses by the French far and alt right for a book tentatively titled The White Minority.
Professor Harrison will be presenting the last chapter of her current book manuscript, Banlieue Palestine: Indigenous Critique in Postcolonial France, which examines the central importance of the Palestinian question in French politics, society, and culture. It is a testament to the pervasiveness of (post)colonial discourses on migration that the trope of the migrant as stranger-foreigner is ubiquitous even in anti-xenophobic discourses about the migrant "crisis." What she call instead the migrant question – the production of a dehistoricized discourse of crisis about the "invasion" of France by colonial subjects-turned-foreigners – is a through line in representations of Palestine in postcolonial France, from Mohamed arfad valiztek to Genet's unpublished film script, Sakinna Boukhedenna's Journal: Nationalité "Immigré(e)", Mohamed Rouabhi's El menfi / L'exilé, and the street art of the "Palestine generation." Already a key concern in the early 1970s when anti-racist activists began invoking Palestine as rallying cry, the migrant question has taken on even more urgency in recent years. This chapter is devoted to Palestine and the migrant question.