Events

The Maya K. Peterson Explorations in History Seminar Series: Inaugural Lecture by Asif Siddiqi
May 17 @ 2:00 pm

-

4:00 pm

| Cowell Provost House
Share
You are invited to attend the inaugural lecture for The Maya K. Peterson Explorations in History Seminar Series, taking place on Wednesday, May 17th, 2023, at 2:00pm at the Cowell Provost House.  This event will also be livestreamed and recorded: Maya K. Peterson Explorations in History Seminar Series Inaugural Lecture.
Drawing on insights from Maya Peterson's work on water management projects in Central Asia, this talk focuses on the design and construction of the infamous White Sea-Baltic Canal in the Soviet north in the early 1930s. Known colloquially as the Belomor Canal, this was the very first infrastructural project to use mass forced labor from the emerging Gulag camp system. Despite the death of some 10,000 laborers in building the canal, the project was advertised internationally as a successful monument to the ability of humans to remake the natural world. In his paper, Professor Siddiqi focuses on the role of scientists and engineers who designed and built the canal, one which came to represent a form of "hydraulic monumentalism" so emblematic of Soviet modernity. As instruments of a form of internal colonization of Soviet space, these scientists and engineers embraced, some under coercion and some freely, the use of mass forced labor as a solution to large-scale engineering projects across the Soviet Union. The outcome was a deeply damaging but enduring relationship between scientific expertise, the natural environment, and the constitution of Soviet empire.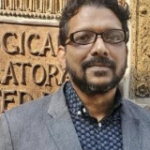 Asif Siddiqi is a professor of history at Fordhamm University, and specializes in the history of science and technology and modern Russian history.
This event is being sponsored by The Maya K. Peterson Memorial Endowment, the UCSC History Department, and The Humanities Institute.
The Maya K. Peterson Explorations in History Seminar Series at UCSC honors the life and spirit of a brilliant scholar, teacher, and mentor whose career was cut short by her untimely death in 2021. A specialist in Russian, Central Asian and environmental history, Maya was a valued member of UCSC's faculty in the History Department and the Humanities Division. The Explorations in History Seminar Series celebrates Maya's passions for the study of history, for dialogue between the humanities and the sciences, and for innovative scholarship across disciplines—passions that she shared generously with students, colleagues, and communities around the globe.