Events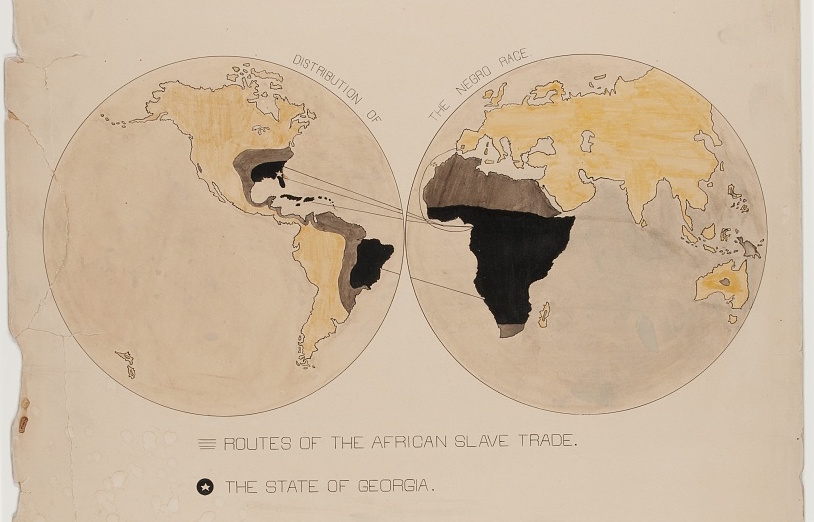 Translating America/America Translated Symposium
February 23, 2019 @ 8:00 am

-

5:00 pm

| Humanities 1, Room 210
Share
"Translating America/America Translated" is a two-day faculty-graduate student symposium on new hemispheric geographies and languages in pre-20th-century American literary studies. The symposium is funded by UCHRI and co-sponsoring units at UC Santa Cruz, UC Irvine, and UC San Diego. Highlighting translation, multilinguality and the transnational as indispensable features of literary studies today, the "Translating America/America Translated" symposium aims to re-situate scholarly and public narratives of American culture by way of multiple languages and various origin-points in space and time. It aims to move forward an important national conversation on the future of the field in its multilingual and multi-geographic dimensions and seeks to build a cohort of early-career comparative Americanist scholars.
Project Directors:
Susan Gillman, Literature, UC Santa Cruz
Kirsten Gruesz, Literature, UC Santa Cruz
If you have trouble viewing above images, you may view this album directly on Flickr.
Translating America/America Translated: A UC Faculty-Graduate Symposium
Humanities 1, Room 210
February 22, 2019 @ 1:00 pm – 6:00 pm
February 23, 2019 @ 9:00 am – 5:30 pm
Keynote speakers include six prominent scholars of hemispheric American studies:
Ifeoma Nwankwo (Associate Professor of English and Associate Provost, Vanderbilt University)
Jesse Alemán (Professor of English and American Studies, Univ. of New Mexico)
Anna Brickhouse (Professor of English and Director of American Studies, Univ. of Virginia)
Michelle Burnham (Professor of English, Santa Clara University)
Sara Johnson (Associate Professor of Literature of the Americas, UC San Diego)
Rodrigo Lazo (Professor of English and Spanish and Director, Humanities Core Program, UC Irvine)
Program:
Friday, February 22:
11 am-12:30pm PhD+ Writing Workshop on journal publication with Gordon Hutner, editor of American Literary History (lunch provided)
1:00-2:30pm
Welcome: Susan Gillman and Kirsten Silva Gruesz
Keynote 1: Ifeoma Nwankwo (Vanderbilt University) "Jim Crow Meets Racial Democracy"
2:30 pm Coffee and cookies (Humanities 1, Room 202)
2:45-4:15 pm Graduate Panel #1 – Personal Narratives: Translations, Republications, Reprintings
Timothy Fosbury (UCLA English), "Crèvecouer's Bermudian Crisis"
Brian Flores (UCI English), "'Y nosotros vivimos aquí en la frontera': Modes of Framing Latina/o Identity in the Autobiographies of José Policarpo Rodriguez and Santiago Tafolla"
Emily Travis (UCSC Literature),"A vida simple: The Complex Afterlives of Alice Dayrell Brant's Minha vida de menina"
RESPONDENT: Amanda Smith (UCSC Literature)
4:30-6:00 pm Keynote 2: Anna Brickhouse (University of Virginia) "Earthquake History in the Americas"
6:00-8:00 pm Opening reception and dinner at Cowell Provost House
Saturday, February 23:
8:30 am Coffee and muffins (Humanities 1, Room 202)
9:00-10:30am Graduate Panel #2 – Coloniality, Indigeneity, Power
Jenny Forsythe (UCLA Comparative Literature), "Ladrones, vagabundos, holgazones sin honra ni vergüenza: Inca Garcilaso's Imperialist Translators Meet the Man in the Canoe"
Carlos Macías Prieto (UCB Spanish and Portuguese), "Domingo Chimalpahin's Rewriting of Antonio de Morga's Narrative of Black Conspiracy in 1612"
Amrah Salomón (UCSD Ethnic Studies), "Regeneración and Regeneration: Anti- Colonial Theory Across Borders"
RESPONDENT: Rodrigo Lazo (UCI English)
10:45 am-12:15 pm Keynote 3: Jesse Alemán (University of New Mexico) "When Cubans Go South: Learning the Language of Late Nineteenth-Century Southern Nationalism"
12:15-1:30 pm Lunch
1:30-3:00 pm Graduate Panel #3 – Nineteenth-Century Recoveries: Translating Texts and Places
Margaret McMurtrey (UCSB Religious Studies), "Singing Grace, Embodying Language and Place"
Gabriela Valenzuela (UCLA English), "Literary Wanderings: Nineteenth-Century Central American-U.S. Contact Zones and Spatial Imaginings"
Brandon Wild (UCI English), "Cincinnati: 'El asombro de todos los que viajan la América del Norte'"
RESPONDENT: Sara Johnson (UCSD Literature)
3:00 pm Coffee and cookies (Humanities 1, Room 202)
3:15-4:45 pm Keynote 4: Michelle Burnham (Santa Clara U) "Archival Diving in the Global Pacific: Towards a New American Literary History"
4:45-5:30pm Closing roundtable, moderated by Susan Gillman & Kirsten Silva Gruesz
6:00-8:00 pm Closing reception and dinner at Cowell Provost House
About Translating America/America Translated:
This symposium on new hemispheric geographies and languages for American literary studies returns to historical moments that allow a reconsideration of language crossings as geographic alternatives to nation-bound paradigms. A 1998 conference on American empire at UC Santa Cruz produced groundbreaking work that has since become foundational, shifting the study of American cultures irrevocably away from an Atlantic-centered narrative of national development, and correspondingly toward languages other than English. Now, twenty years later, we revisit a once radically revisionist geo-timeline, dating to the 1998 centennial of the Spanish-American-Cuban War and recasting the history of US empire back from Cuba 1898 to an earlier time and place in the border treaty with Mexico in 1848. Critically examining the state of the discipline today, this symposium looks back still earlier: to the later eighteenth-century suturing of colonial to national studies that has proven exceptionally fruitful for scholars working across indigenous and multiple European colonial languages. Just as California's demographic diversity prefigures that of the future United States at large, the University of California is rich in the human resources needed to re-invent a usable past for American cultural and literary studies. For more information visit: https://thi.ucsc.edu/projects/translating-america-america-translated
Sponsors:
"Translating America/American Translated" is hosted and staffed by The Humanities Institute at UC Santa Cruz, with financial support from the University of California Institute for Humanities Research (UCHRI); the Siegfried B. and Elisabeth Mignon Puknat Endowment in Literary Studies and the Division of Graduate Studies at UC Santa Cruz; the Humanities Core Program at UC Irvine; and the Black Studies Project at the Humanities Center at UC San Diego.
"Translating America/America Translated" is hosted and staffed by The Humanities Institute at UC Santa Cruz, with financial support from the University of California Institute for Humanities Research (UCHRI); the Siegfried B. and Elisabeth Mignon Puknat Endowment in Literary Studies and the Division of Graduate Studies at UC Santa Cruz; the Humanities Core Program at UC Irvine; and the Black Studies Project at the Humanities Center at UC San Diego.
+++++++++++++++++++++++++++++++++++++++++++++
VISITING GRADUATE STUDENT PARTICIPANTS FROM OTHER UC CAMPUSES
Chip Badley (UCSB English)
Anastasia Baginski (UCI Comparative Literature)
Yui Kasane (UCSD Literature)
Amanda Kong (UCD English)
Efren López (UCLA English)
Lorena Vega Tamayo (UC Riverside Hispanic Studies)