Events

In Vitro: Film Screening and Conversation
December 2, 2020 @ 12:00 pm

-

2:00 pm

| Virtual Event
Share
IN VITRO | Larissa Sansour & Søren Lind, 2019 (TRAILER) from Spike Island – Productions on Vimeo.
Join the Center for Cultural Studies Colloquium for a special screening of the film, In Vitro, after which Peter Limbrick (UCSC professor of Film and Digital Media) will moderate a discussion with filmmakers Larissa Sansour and Soren Lind.
In Vitro is a 2-channel Arabic-language sci-fi film filmed in black and white. It is set in the aftermath of an eco-disaster. An abandoned nuclear reactor under the biblical town of Bethlehem has been converted into an enormous orchard. Using heirloom seeds collected in the final days before the apocalypse, a group of scientists are preparing to replant the soil above.
In the hospital wing of the underground compound, the orchard's ailing founder, 70-year-old Alia, played by Hiam Abbass, is lying in her deathbed, as 30-year-old Alia, played by Maisa Abd Elhadi, comes to visit her. Alia is born underground as part of a comprehensive cloning program and has never seen the town she's destined to rebuild.
The talk between the two scientists soon evolves into an intimate dialogue about memory, exile and nostalgia. Central to their discussion is the intricate relationship between past, present and future, with the Bethlehem setting providing a narratively, politically and symbolically charged backdrop.
RSVP by 11 AM on Wednesday, December 2nd to receive Zoom link and password.

______________________________________________________________________________________________
Larissa Sansour was born in 1973 in East Jerusalem, Palestine, and studied fine arts in London, New York and Copenhagen. Central to her work is the dialectics between myth and historical narrative. In her recent works, she uses science fiction to address social and political issues. Working mainly with film, Sansour also produces installations, photos and sculptures.
Sansour's work is shown in film festivals and museums worldwide. In 2019, she represented Denmark at the 58th Venice Biennial. She has shown her work at Tate Modern, MoMA, Centre Pompidou and the Istanbul Biennial. Recent solo exhibitions include Copenhagen Contemporary in Denmark, Bluecoat in Liverpool, Bildmuseet in Umeå and Dar El-Nimer in Beirut. Sansour currently lives and works in London, UK.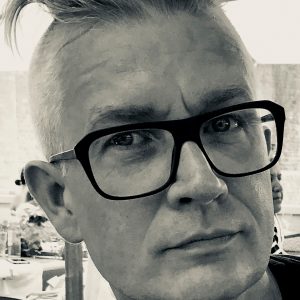 Soren Lind (b. 1970) is a Danish author, artist, director and scriptwriter. With a background in philosophy, Lind wrote books on mind, language and understanding before turning to art, film and fiction. He has published novels, shorts story collections and several children's books.
Lind screens and exhibits his films at museums, galleries and film festivals worldwide. His work was shown at the Danish Pavilion at the 58th Venice Biennial. Other recent venues and festivals include Copenhagen Contemporary (DK), MoMA (US), Barbican (UK), Nikolaj Kunsthal (DK), Berlinale (D), International Film Festival Rotterdam (NL) and BFI London Film Festival (UK). He lives and works in London.
This event is part of The Humanities Institute's yearlong series on Memory.
The Center for Cultural Studies hosts a weekly Wednesday colloquium featuring work by faculty and visitors. The sessions consist of a 40-45 minute presentation followed by discussion. We gather at noon, with presentations beginning at 12:15 PM. Participants are encouraged to bring their own lunches; the Center provides coffee, tea, and cookies.*
All Center for Cultural Studies events are free and open to the public. Staff assistance is provided by the Humanities Institute.
*2020-2021 colloquia will be held virtually until further notice. Attendees are encouraged to bring their own coffee, tea, and cookies to the session.