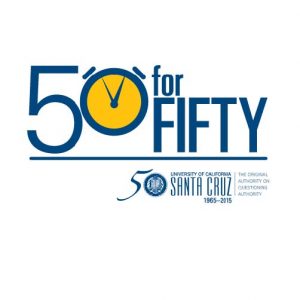 In honor of the 50th anniversary of UC Santa Cruz, students, staff, faculty, and alumni were invited to donate 50 hours of service to the community (visit 50for50.ucsc.edu). The Institute for Humanities Research, no stranger to the joy of giving, enthusiastically accepted the challenge as a team effort and has logged well over 50 hours of service, to date.
In this issue of Humanities Perspectives, an interview with IHR Program Manager Courtney Mahaney is featured. She describes her experience as a "50 for 50" champion:
What motivated you to participate in the 50 for 50 challenge?
Community service has always been a large part of my life. I grew up in a small town in Vermont where generosity and service were taught at a very early age. Over the years, I came to realize that a community didn't feel like home to me until I was actively involved in giving back. When I first heard of the 50 for 50 Service Challenge, I did not hesitate to sign up.
Why did you select Court Appointed Special Advocates (CASA)?
When I first arrived in Santa Cruz, I tried out a number of volunteer programs, but none made my heart sing. The more I explored the city and county, the more I felt as though
there was a greater community need that just wasn't being met… Read more