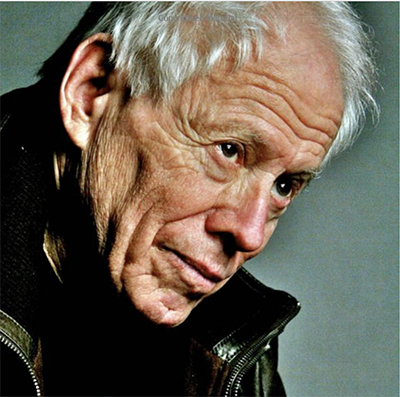 Harry Berger Jr., professor emeritus of literature and art history at UC Santa Cruz, died on March 12, 2021, at age 96.
An internationally recognized scholar and founding faculty member of UC Santa Cruz, Berger was known for a wide-ranging and interdisciplinary approach that goes far beyond traditional academic boundaries. 
A revered literary and cultural critic, Berger published extensively over the years, with numerous books and more than 100 articles to his credit. In 2006, he was elected to the American Academy of Arts and Sciences.
Berger studied at Yale University, where he earned his B.A. and Ph.D. in English Literature and taught for 12 years. He came to UC Santa Cruz in 1965 where he taught a variety of subjects under the general category of culture theory and Renaissance culture, including Renaissance drama and Shakespeare. At Santa Cruz, he became interested In art history, specifically in Italian and Dutch painting and the theory and practice of portraiture. 
Berger's first laurels were earned through distinctive interpretations of Edmund Spenser's"The Faerie Queen," including his first book The Allegorical Temper (1957). Although much of his initial scholarship was in Renaissance poetry, particularly Spenser's work, Berger's research and interests grew to encompass Dante, Plato, Freud, Marx, anthropology, metaphysics, and art history. According to the Academy of Arts and Sciences, "he helped to lead a generation of cultural critics to the conclusion that all narrative is rhetorical and pedagogic and not factual."
"Harry was, as he used to say ironically, the 'lead man' in the formation of Cowell College and of the Literature Department at UC Santa Cruz," noted UCSC literature professors Karen Bassi, Deanna Shemek, and Marshall Leicester in a document supporting a 2010 campus celebration of his career. "He was not only instrumental in the recruiting of their first faculty, but in the foundation and working-out of the then-new and still influential idea that a 'board of study' could be so conceived and a residential College so organized, as intercommunicating cross-disciplinary entities."
"While he was championing UC Santa Cruz and keeping it going, Harry was also breaking new ground all over the intellectual map of the human sciences." they added. "His record of productivity was extraordinary. He defined himself as a reader of texts, or what he disingenuously calls 'an old-fashioned New Critic.' What this meant in practice is that he was one of the first in this country (or anywhere) to see that the techniques of close interpretation of literature that he learned to practice in his student days at Yale could be applied across the board in the human sciences and to the texts of culture."
Celebrated author, former New Yorker staff writer, and UC Santa Cruz alumnus Lawrence Weschler has described Berger as "one of our country's finest, most penetrating and protean cultural critics and theorists." 
Weschler recalled the impact that Berger's teaching and mentorship has had on him, ever since first encountering him as a freshman at Cowell College on the UC Santa Cruz campus.
"First we had to learn how to read…close and deep and actively, dynamically, in a continuous, open-ended, dialectical dance with the text," said Weschler. "And there was always more to learn—or so I've found in the decades since, as deep into my own career as an itinerant reporter, I continued to commune with Harry."
"And the marvels he could worry out of a text! And such a range of texts—Spencer, Shakespeare, Milton, Marvell, of course, but Plato, Dante, Theocritus, Beowulf, Pepys, Wordsworth and Frost. And not just texts, because he was a master at reading paintings, too: Da Vinci, Rembrandt, Vermeer, the Dutch still life masters, even Alice Neel. Deep looking: the slow reveal."
"How we are going to miss him," Weschler added.  "But then again not, since he remains so vitally present—that voice, the ever-penetrating insights, those gleams, that laugh—in the volumes he left us…."  
Although he retired in the 1990s, Berger continued to teach classes as an emeritus professor at UC Santa Cruz, as well as lead seminars for faculty and students at such venues as the Folger Shakespeare Library, Yale, Newberry Library and the Shakespeare Society of America. He also continued to write numerous articles and completed over a dozen books, spurring the Modern Language Association in 2003 to dedicate a panel to his impact on literary studies.
In 2010, Fordham University Press published A Touch More Rare: Harry Berger, Jr. and the Art of Interpretation, co-edited by David Lee Miller, celebrating more than four decades of groundbreaking work by Berger. The book's 19 essays served as a tribute to a highly respected and incredibly productive literary and cultural critic.
"Although the breadth of Berger's work is awesome, he doesn't dabble," said Miller at the time. "When he turns to art history, he challenges and transforms the field's repertoire of methodologies; whatever his mind touches starts to glow."
Miller also noted "the special ethos of Berger's work, which makes us all feel as if the world of scholarship might still turn out to be the kind of clean, well-lighted place we imagined it would be when we were still students, peering in from the outside and idealizing our teachers."
---
Original Link: https://news.ucsc.edu/2021/03/harry-berger.html